Gwyneth Paltrow Responds To Backlash Over Viral Diet Plan After Meghan McCain And More Celebs Comment On It
Gwyneth Paltrow addressed her critics.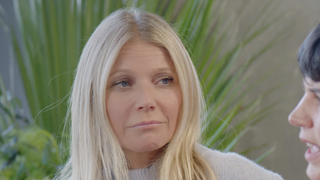 (Image credit: Netflix)
Gwyneth Paltrow has been praised for her plethora of performances, though her fitness and self-care methods have received some mixed reactions from fans. Many have commented on the merits of some of the 50-year-old Goop founder's methods, with some even questioning if her recommendations are "pseudoscience." This past week, Paltrow caused a stir again when she revealed her diet plan, with the comments going viral. The A-lister is now reacting to the flurry of responses – some of which came from fellow celebrities like Meghan McCain and Bethenny Frankel.
How Gwyneth Paltrow Reacted After The Public Took Issue With Her Routine
The Oscar winner recently appeared on Dr. Will Cole's The Art of Being Well podcast, during which she broke down her habits to the physician. Her comments seemed to give many the impression that she wasn't eating enough on a daily basis. Days after the interview went live, Gwyneth Paltrow addressed the matter during a Q&A on her Instagram stories. She explained that she's been working with Cole for some time now and that he's been helping her form a nutrition approach that's viable as she deals with chronic ailments:
In past interviews, the star has been candid about how COVID has impacted her life, including how she gained weight amid lockdown like a number of others. Her comments suggest that this approach to her diet has been beneficial for her amid her specific situation. On that note, the actress (who filled in for Julia Roberts in Shakespeare in Love) stressed that she didn't mean to list these facts in order to give advice. She was simply aiming to have a "transparent" discussion with her doctor:
Some may appreciate the clarity that was provided here. However, the backlash that arose from those initial comments is still worth making note of.
What Did Gwyneth Paltrow Actually Say About Her Diet Plan And How Have People Reacted?
In the viral TikTok clip from the interview, the Marvel star explained that in the morning, she aims to "have some things that won't spike my blood sugar," which makes coffee a go-to for her. She also said that she prefers to have "soup for lunch," specifically "bone broth." And when it comes to dinner, she aims to eat "according to Paleo" so, as a result, she consumes "lots of vegetables" that help "to support my detox."
In addition to her eating habits, Gwyneth Paltrow also touched on the way in which she stays active during the day. She apparently participates in an "hour of movement" on the daily and also spends 30 minutes in an infrared sauna. All of these sentiments seemed to draw concern from commentators. After Paltrow was called out, even a dietician weighed in, saying that her regimen is "actually not that healthy-sounding at all." Former The View host Meghan McCain also didn't mince words when discussing the situation in a column for DailyMail.com:
Former Real Housewives of New York City alum Bethenny Frankel, who once threw shade at Gwyneth Paltrow for supporting Kim Kardashian, also shared thoughts on Instagram. And the reality TV star evoked eating disorders while chiming in:
Plus-size model Tess Holiday weighed in on the discussion through a TikTok post that's since picked up significant momentum. While Holiday didn't seek to judge, she did drop some strong thoughts on the retired actress' choice of foods:
There are definitely varied ways in which people choose to approach their health and choose eating habits. And in all honesty, some may be a bit more unusual than others. But at the end of the day, a person has the freedom to choose how they want to stay healthy. Gwyneth Paltrow has made her position clear, and it's likely that she's going to stick to it.
Your Daily Blend of Entertainment News
Covering superheroes, sci-fi, comedy, and almost anything else in film and TV. I eat more pizza than the Teenage Mutant Ninja Turtles.