Hunger Games' Ballad Of Songbirds And Snakes Cast List Is Stacked, Including Rachel Zegler And Jason Schwartzman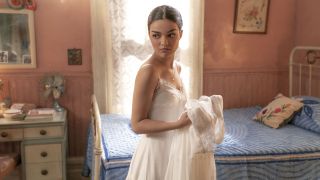 (Image credit: 20th Century Studios)
Just following the first Hunger Games surpassing its 10-year anniversary, Lionsgate is getting ready to bring the popular YA franchise to the big screen with The Ballad of Songbirds and Snakes. The upcoming 2023 movie is an adaptation of Suzanne Collins' 2020 prequel, which will follow President Snow at the age of 18, during the 10th Hunger Games and long before he was the tyrannical leader of Panem. As we anticipate the release of the under-wraps production, let's get into the stacked cast involved.
The Ballad of Songbird and Snakes will be directed by Francis Lawrence, who helmed all three Hunger Games sequels (Gary Ross was the director of the original film). The script based on Suzanne Collins' bestselling book was written by Catching Fire's Michael Arndt and 2015's Macbeth writer Michael Lesslie. Here's the official cast list so far:
Tom Blyth
Leading The Ballad of Songbirds and Snakes cast is British actor Tom Blyth as an 18-year-old Coriolanus Snow. In the prequel, he'll serve as a mentor in the 10th annual Hunger Games, by assignment to District 12 tribute, Lucy Gray Baird. Blyth is a relatively new actor, but he's starred as the titular character in EPIX's series Billy The Kid, along with recently guest starring in The Gilded Age and Benediction.
Rachel Zegler
Rachel Zegler is playing Lucy Gray Baird, the lead tribute in the Hunger Games movie, and she's much different than Katniss Everdeen. Lucy is a more extroverted tribute who uses her gift of song to dazzle the Capitol during the games, mentored by Snow. Zegler recently debuted in Hollywood in a big way with Steven Spielberg's West Side Story as Maria. The actress is set to star in a number of high-profile projects in the near future, including Shazam! Fury of the Gods and as Disney's live-action Snow White.
Hunter Schafer
Euphoria star Hunter Schafer will also star in The Ballad of Songbirds and Snakes as Tigris, who was previously a character in the Mockingjay book and film. In the book, Tigris is revealed early on to be Snow's cousin, and she's a close confidant to him throughout the prequel storyline. In the book, Tigris is 21 with aspirations for fashion design, which as we know will lead to her becoming a designer in the games like Cinna was to Katniss. Schafer plays Jules on Euphoria, who is a love interest to Zendaya's Rue and a central character to the HBO show.
Jason Schwartzman
Jason Schwartzman has been revealed to be playing Lucretius "Lucky" Flickerman in the Hunger Games prequel, who is an ancestor to Stanley Tucci's Caesar Flickerman, the host of the Hunger Games later on. In the book, Lucky is a weathercaster who hosts the 10th Hunger Games interviews. Schwartzman is well known for frequently starring in Wes Anderson movies like Rushmore and The Grand Budapest Hotel, but he's also recently been in the Fargo series and played a memorable role in Scott Pilgrim vs. the World.
Josh Andrés Rivera
Another 2021 West Side Story alum is part of the Songbirds and Snakes cast: Josh Andrés Rivera, who played Chino in the musical adaptation. Rivera will play Sejanus Plinth, who is a Capitol citizen formerly of District 2, a close friend of Coriolanus Snow and mentor to the District 2 tribute in the Games. West Side Story was Rivera's debut role, but the actor is also expected to star in an upcoming movie called Cat Person with CODA's Emilia Jones and Succession's Nicholas Braun.
Ashley Liao
Another close friend to Snow is Ashley Liao's Clemensia Dovecote, who is a mentor to the male tribute from District 11, Reaper Ash. Liao may be familiar to you from her work in Fuller House as Lola Wong, Disney+'s Secret Society of Second-Born Royals as Princess Eleanor and Apple TV+'s Physical as Simone.
Laurel Marsden
Laurel Marsden is a fresh face, you may recognize if you've been following the Disney+ series Ms. Marvel, where she plays Zoe Zimmer, an especially popular girl at Kamala's high school. In The Ballad of Songbird and Snakes, Marsden will play Mayfair Lipp, the daughter of the District 12 mayor, who has a major hand in Lucy becoming a tribute at the 10th Hunger Games.
Zoe Renee
Speaking of District 12, Zoe Renee, who starred in 2018 film festival darling Jinn, will play Lysistrata Vickers, a mentor to the other District 12 tribute in the 10th annual Hunger Games. Lysistrata is a resident of the Capitol and mentors Jessup Diggs, one of the few mentors to develop a positive relationship with her tribute.
Nick Benson
New actor Nick Benson will play the other District 12 tribute, Jessup Diggs. Prior to being chosen to be in the Hunger Games, Jessup is employed in the mines and is an ally to Lucy Gray Baird as they enter the games. Benson will appear in Netflix series Boo, Bitch and filmed a role in Disney+'s Big Shot.
Aamer Husain
Lionsgate casted another newcomer in Aamer Husain, who will play Felix Ravinstill, the other District 11 mentor, to female tribute Dill. Felix is also the great-nephew of President Ravinstill, who is the leader of Panem during the events of The Ballad of Songbirds and Snakes. Aamer Husain's only credit thus far is in a single episode of Canadian police drama Hudson & Rex.
Luna Steeples
New actress Luna Steeples will play Felix's tribute, Dill, who hails from District 11. The Ballad of Songbird and Snakes is only Steeples second credit, previously appearing in one episode of 2017 series Overdue.
Lilly Cooper
Playing one mentor to a tribute from District 10, Arachne Crane, is another rather new actress named Lilly Cooper. Cooper has so far only appeared in two episodes of The Witcher as Murta. In the upcoming movie, she'll mentor a tribute named Brandy. It's also worth noting that she has the same last name and is likely related to Seneca Crane, who was the head gamemaker during the 74th Hunger Games, where Katniss and Peeta were tributes.
Kaitlyn Akinpelumi
Kaitlyn Akinpelumi will play District 10 mentor Domita Whimsiwick, who is assigned to male tribute Tanner. She is a 'dairy heiress' in the book, giving her extensive knowledge on livestock and proves helpful in the games. Akinpelumi is a British actress who will soon be seen in Netflix's fantasy film The School Of Good and Evil alongside Charlize Theron and Kerry Washington amongst a massive cast. She previously found her debut film role in rom-com How To Talk To Girls At Parties alongside Elle Fanning.
Knox Gibson
Playing one of District 8's tributes Bobbin, is Knox Gibson, who is a new actor that has only starred in Netflix dramatic 2022 short, Forgive Us Our Trespasses. Bobbin becomes memorable in the 10th Hunger Games for explaining five different ways to kill someone with a sewing needle during his interviews. So yeah, expect intensity from this tribute.
Sofia Sanchez
District 8's female tribute in the 10th Hunger Games will be played by Sofia Sanchez, who had a video called "Down Syndrome is Not Scary" go viral, along with having her adoption story inspire two children's books "You Are Enough" and "You Are Loved." Sanchez plays Wovey, who is mentored by Hilarius Heavensbee, relative to Plutarch Heavensbee.
Ayomide Adegun
Ayomide Adegun will play Pliny "Pup" Harrington, another mentor, this time for District 7. Pup is assigned to a tribute named Lamina. In the book, Pup is the son of a naval commander, but unlike his father, proves to be a slob who also doesn't really prepare his tribute. Adegun has yet to debut a role ahead of The Ballad of Songbirds and Snakes, but along with this role, he'll play a young Charon (played by Lance Reddick) in John Wick spinoff series The Continental.
Amélie Hoeferle
Amélie Hoeferle will play Vipsania Sickle, a mentor to a male tribute named Treech in the 10th Hunger Games. Vipsania has an aunt at the Capitol's academy, Agrippina Sickle, who is a professor and is described as inheriting her thirst for competition. Hoeferle is also a new actress who has yet to play a movie or television role; however, she has starred in a few shorts.
Hiroke Berrecloth
Hiroke Berrecloth will play Vipsania's tribute from District 7, Treech, who becomes a rather formidable opponent to Lucy throughout the games. The Ballad of Songbirds and Snakes is Berrecloth's first major acting credit.
Max Raphael
Max Raphael, who has found roles in Disney+'s Black Beauty, School's Out Forever and Slaughterhouse Rulez will play Festus Creed, a mentor to District 4's Coral. In the book, Festus is a longtime school mate of Snow and he came from old Capitol money.
Mackenzie Lansing
Playing Festus' tribute Coral is Mackenzie Lansing, who recently played Brianna Delrasso in HBO hit series Mare of Easttown. Coral becomes one of the strongest tributes in the 10th Hunger Games, demonstrating apt abilities with a trident and forming alliances with a couple other tributes.
Jerome Lance
Sejanus Plinth's tribute hailing from District 2 is Marcus, set to be played by Jerome Lance. Marcus has a contentious relationship with his mentor, because Sejanus used to live in his district before moving to the Capitol. The Ballad of Songbirds and Snakes is Lance's first Hollywood acting credit.
We'll keep this cast list updated as we learn more about the next Hunger Games movie. The Ballad of Songbirds and Snakes hits theaters on November 17, 2023.
YA genre tribute. Horror May Queen. Word webslinger. All her writing should be read in Sarah Connor's Terminator 2 voice over.
Your Daily Blend of Entertainment News
Thank you for signing up to CinemaBlend. You will receive a verification email shortly.
There was a problem. Please refresh the page and try again.