I Finally Watched The Fabelmans And I Have So Many Thoughts About The Steven Spielberg Movie
To say I was blown away is an understatement.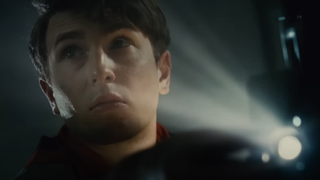 (Image credit: Universal)
I waited entirely too long to watch The Fabelmans, Steven Spielberg's semi-autobiographical coming-of-age drama about a young boy finding a passion for filmmaking while his family's nucleus slowly tears apart. It's not like I didn't want to see the movie that has since been nominated for seven Academy Awards after winning Best Motion Picture – Drama and Best Director at the 80th Golden Globes, it just kind of happened. And I regretted it immensely.
But I changed all that recently, and no surprise, I loved it. I would put it up there in the top tier of Spielberg's best movies like Jaws, E.T. The Extra-Terrestrial, Jurassic Park, and Schindler's List. The movie has stuck with me ever since I watched it, and in an attempt to free myself from its clutches, I decided to share my thoughts.
Spoilers ahead if you haven't watched The Fabelmans yet.
A Young Sammy Fabelman Initially Being Terrified Of Movies Is The Start Of A Great Arc
In the opening scene of The Fabelmans, Burt (Paul Dano) and Mitzi Fabelman (Michelle Williams) take Sammy (Mateo Zoryan Francis-DeFord) to see Cecil B. DeMille's classic The Greatest Show on Earth, an experience that both terrifies and intrigues the young boy, as well as one that sets him on a path to greatness.
There's one scene in the movie that is particularly significant for the young boy, the moment in which a train crashes into a vehicle on the tracks. Sammy becomes obsessed with recreating and controlling the nightmarish scene, so much so it becomes the reason he picks up a camera in the first place. This brilliant section of the movie is not only great on its own, but it's also the start of a great arc that becomes the essence of The Fabelmans.
The Fabelmans Features What Could Be The Best Performance Of Michelle Williams' Career
Even though The Fabelmans is largely told through the eyes of Sammy Fabelman (played later by Gabriel LaBelle), it's Michelle Williams who steals the show. Williams' portrayal of MItzi Fabelman, a character based on Steven Spielberg's late mother, Leah Adler, could very well be the best performance of her career, and she's more than deserving of all the praise she has received since the film's debut.
And while I still think Michelle Yeoh is going to take home the Best Actress Oscar for her outstanding performance in Everything Everywhere All At Once, I would love to be wrong and see Williams finally win an Academy Award. This dynamic portrayal of a grieving woman – both for her mother and the death of her own dreams of being a famous pianist – paints a complex and oftentimes maddening portrait that is never not beautifully crafted.
Is Judd Hirsch Going To Win An Oscar For His One-Scene Performance? I Think He Can
The Best Supporting Actor field at this year's Oscars is one of the most stacked categories in recent memory. Brendan Gleeson, Brian Tyree Henry, Barry Keogh, Ke Huy Quan (who is the odds-on favorite at this point), and Judd Hirsch all put on incredible performances, whether they appeared throughout their respective movies or only showed up for one scene. Hirsch falls into the latter category, and I honestly think has a good chance of winning, if only slightly.
There is a certain aura surrounding Hirsch's Boris Podgorny, Sammy's great-uncle with a history in the film industry and as a lion tamer who shows up after the death of Mitzi's mother, that creates this incredible performance that really drives home one of the film's messages: family and art will always be at odds and they'll tear you apart. This powerful conversation, which also touches on Mitzi giving up her dreams as a pianist, is only a few minutes long, but sticks with Sammy, and the viewer until the end of the movie.
The Tornado Scene And Sammy's War Movie Are Two Of Steven Spielberg's Best Action Sequences In Years
Even though The Fabelmans isn't an action spectacle like the Indiana Jones movies or even Steven Spielberg's Saving Private Ryan, the coming-of-age drama does have two masterfully crafted set pieces that I just can't stop thinking about.
The first is the incredibly emotional scene in which Mitzi grabs Sammy and two of his sisters, puts them in the family car, and drives towards a tornado that is running through their New Jersey town. This is a classic Spielberg moment that is both terrifying and majestic, as the danger and wonder coalesce to create an incredibly poignant scene showcasing Mitzi's emotional despair.
The second comes later in the movie when Sammy finally gets to show off his war movie (a recreation of Spielberg's Escape to Nowhere short film) that shows the joy, wonder, and ingenuity of the young director. The rudimentary special effects (firecrackers used as gunfire, stepping on partially buried boards to replicate explosions, etc.) take Spielberg, and the audience, back to his roots in this surprisingly insightful sequence.
I Can't Get Enough Of What Happens After The Fabelmans Move To California
Each of The Fabelmans' three acts take place in a different part of the country, with the final section of the movie being set in California. And while I love everything about the New Jersey and Arizona portions of this engaging coming-of-age story, when the Fabelmans land in their new home is where it really takes off for me.
There are just so many impactful scenes in this portion of the film, but the best part of the final act, and the movie as a whole, comes after the debut of Sammy's Ditch Day film at prom. Not only does Sammy learn that people like his movie, he also sees how it impacted its unintended star, his longtime bully, Logan Hall (Sam Rechner). This powerhouse of a scene is one I will live rent free in my head for years to come as I continue to unpack the weight of it.
The Fabelmans Ending Is A Little On The Nose, And I'm All About It
After the main portion of The Fabelmans wraps up, Steven Spielberg offers up a brief epilogue showing Sammy Fabelman trying to get work (and survive college) in California. After having a meeting with Hogan's Heroes creator Bernard Fein (Greg Gunberg), Sammy is given the opportunity to meet Hollywood legend John Ford (David Lynch), who gives him an unorthodox lesson in framing shots: the horizon at the top or bottom is interesting, the horizon in the middle is boring.
What The Actors Have To Say About The Fabelmans
After being told to get out of Ford's office, Sammy walks through a studio backlot. As he walks away from the camera, we are given the perfect ending in which the horizon shifts to the bottom of the frame, essentially breaking the fourth wall. What makes it even better is the fact that this interaction was based on real life.
The Fabelmans is a movie I'll be thinking about for quite some time. But when I do finally come back to reality, there are some incredible 2023 movies on the horizon.
Your Daily Blend of Entertainment News
Philip grew up in Louisiana (not New Orleans) before moving to St. Louis after graduating from Louisiana State University-Shreveport. When he's not writing about movies or television, Philip can be found being chased by his three kids, telling his dogs to stop yelling at the mailman, or yelling about professional wrestling to his wife. If the stars properly align, he will talk about For Love Of The Game being the best baseball movie of all time.