Jason Momoa's Back To Showing Off His Tush Again, 'Butt' This Time I'm Here For The Funny Fan Comments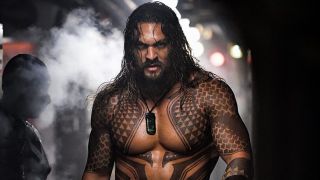 (Image credit: Warner Bros. Pictures)
Jason Momoa loves a breezy moment. He is very comfortable in his own skin, and will often show off for his many followers on social media. This time the Aquaman star is using his famous backside to sell some t-shirts made by a sustainable company Momoa supports, and based on the comments, this marketing tactic is definitely working.
Momoa is a fan and spokesperson of a sustainable adventure apparel brand So iLL. He does many ad campaigns for the company and wears their clothing often on social media. In his recent Instagram post, the action star can be seen wearing a So iLL t-shirt, and not much else. He not only shows off his love for the brand, but shows off his tush as well. You can check out his silly (and sexy) post below:
This unsurprisingly welcomed some hilarious comments from fans, who were clearly not focused on the t-shirt he was wearing. One fan was so mesmerized, they just had to give the video a second watch… and maybe a third.
Another fan was a bit concerned that his wife may be watching the video over and over as well.
One fan's hilarious comment insinuated that they were so focused on Momoa's tush, that they didn't notice anything else in the video.
Another hysterical comment from a fan implied that they were incapable of watching any other video on Instagram because they were so taken by Momoa's post.
There are so many funny fan comments on that post, you just have to read them for yourself. While this post is clearly a welcome one, considering fan response, Momoa fans should be used to this by now. The Fast X star has posted cheeky photos like this many times before. Notably, photos from his deep sea fishing trip also featured his now famous butt, he once stripped down to only a Hawaiian Malo on a late-night show, and his workout pictures don't leave much to the imagination. I'm happy the actor is so comfortable in his own skin, and his fans clearly are too.
The So iLL apparel and adventure gear Momoa loves so much in this Instagram post has certainly been put to use as of late. The actor is an avid mountain climber and started a competition series titled The Climb where the Game of Thrones alum enlists other mountain climbers to compete in a slew of challenges surrounding the activity. He is also rumored to be starring in a remake of the 1993 film Cliffhanger, where he would be fittingly playing a mountain climber. The gear probably would be beneficial in training for such a role, however, Momoa probably should put more clothes on before taking on the peaks.
You can catch Jason Momoa in The Climb which is currently available to stream with an HBO Max subscription. You can also see the actor in the much anticipated Fast X when it hits theaters on May 19. For more information on other projects hitting cinemas and streaming in the near future, make sure you consult our 2023 movie release schedule.
Your Daily Blend of Entertainment News
Writer, podcaster, CinemaBlend contributor, film and television nerd, enthusiastic person. Hoping to bring undying passion for storytelling to CinemaBlend.