Michelle Yeoh Shared An Oscars Post About Diversity, Then Deleted It After She May Have Disobeyed Eligibility Rules
Did Michelle Yeoh's Instagram post break a rule?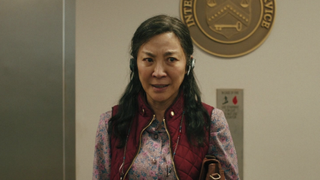 (Image credit: A24)
This year's Best Actress race for the 2023 Oscar had a major snafu at the beginning with the surprise nomination of Andrea Riseborough and her eligibility being questioned because it was unclear if she broke The Academy's campaigning rules. The controversy surrounding To Leslie was resolved early on. However, now, days before the ceremony airs on the 2023 TV schedule, another actress's eligibility is being questioned on social media as Michelle Yeoh posted, and deleted, an article that may have violated voting rules.
The Everything Everywhere All at Once star took to her Instagram on March 7 to post screenshots from a Vogue article called: "It's Been Over Two Decades Since We've Had a Non-White Best Actress Winner. Will That Change in 2023?" This post went up a few hours before voting closed for the ceremony, and about two and half hours later it was deleted, according to Insider.
In Yeoh's post, she included screenshots of the article with the caption:
Yeoh and the entire cast of Everything Everywhere All at Once have been blazing a trail this season, and making history. The actress and her co-star Ke Huy Quan both made SAG Award history by becoming the first Asian actors to win in their categories. If they win Oscars they will make history once again, and that's highly likely to happen considering both the Crazy Rich Asians star and The Goonies actor are both frontrunners in their respective races.
The story Yeoh posted highlighted this lack of diversity in the Best Actress race at the Oscars specifically – Halle Berry won in 2002 for her performance in Monster's Ball, and she's the only woman of color to win in that category. However, it also mentioned this year's race, and by mentioning this year's set of nominees, and specifically naming Yeoh's competition Cate Blanchett, the post could have broken one of The Academy's rules.
When you look at the Regulations Concerning The Promotion of Films Eligible for the 95th Academy Awards there's a section titled "Reference to Other Nominees" and those rules state that nominees are not allowed to use:
The second point of this section then states:
Based on this, people are wondering if Yeoh's now-deleted post that references Cate Blanchett and her nomination for Tár disobey The Academy's rules by specifically naming one of the 2023 Oscar nominees, because the article says:
Considering The Academy concluded that Andrea Risebrough didn't break any rules, it seems likely that Michelle Yeoh's eligibility will not be rescinded for the deleted Instagram post. However, with these two questionable moments, Variety reported that The Academy is expected to review, and maybe even revise, its rules surrounding social media, especially with the rise of Instagram and TikTok use for Oscar campaigning.
Over the course of the awards season, Michelle Yeoh and the EEAAO cast have been posting about the awards they win and the love they have for each other all over social media. Jamie Lee Curtis went viral for her reaction to Michelle Yeoh's Golden Globe win, and it feels like Ke Huy Quan's speeches are always seen by anyone on social media after a given award show. Their presence on mainstream social media is likely what has helped propel this film to the front of the pack this season.
Despite this minor snafu in Everything Everywhere All at Once's award season narrative, the film is expected win a lot of awards at the Oscars, which is why it's one of the 2023 nominees you need to make sure you check out before the ceremony. However, it's worth noting what happened with Yeoh, Risebrough and the Best Actress race, because it's possible these two events could cause The Academy to revise their rules for nominees in the near future.
Your Daily Blend of Entertainment News
Riley Utley is a Weekend Editor at CinemaBlend. She spent many years working in local journalism across the country writing about art, news and sports. One of her favorite films is When Harry Met Sally and she walks around constantly quoting Ted Lasso.