Mo'Nique Still Hasn't Forgiven Oprah Winfrey For Family's Talk Show Appearance, Reveals Awkward Backstage Apology Confrontation
Oprah Winfrey is still on thin ice according to Mo'Nique.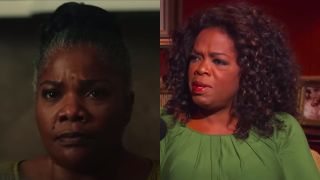 (Image credit: BET+/OWN)
Lee Daniels' Precious won big during Awards Season years ago, with a ton of praise coming to supporting actress Mo'Nique. But tensions between she and producer Oprah rose when her estranged family appeared on an episode of her talk show. Over a decade later, Mo'Nique says that she still hasn't forgiven Oprah Winfrey for her family's talk show appearance, while also sharing the awkward backstage apology that came after.
Mo'Nique appears to be the type of talent who wants to create her own rules in Hollywood. After her Best Supporting Actress Oscar win for Precious, she's said she didn't become a bigger star, with director Lee Daniels telling her she was being "blackballed" for having a reputation of being challenging to work with. According to The Hollywood Reporter, these accusations could come from when Mo'Nique approached Precious' co-producer Oprah Winfrey about the reason why she refused to head to France to do a promotional tour for the Oscar-nominated film.
Oprah Winfrey and Mo'Nique are two Oscar winning actress also famous for other talents; Winfrey known for her award-winning talk show and Mo'Nique for being a stand-up comedian and sitcom actress. But it didn't mean the two of them reached common ground related to doing a press tour for their movie. The Best Supporting Actress winner felt no obligation to go abroad for Precious, with reports saying Lionsgate refused to pay the actress for these promotions. She was also unwilling to sacrifice the time she wanted with her family for Hollywood. Just when it seemed that Mo'Nique and Winfrey "mutually" parted ways, the drama between the two of them escalated further when the Daytime Emmy Award winner had Mo'Nique's brother Gerald Imes appear on The Oprah Winfrey Show. During that appearance he apologized to the Bessie actress for the sexual abuse he afflicted on her for years when they were kids. While Mo'Nique has spoken publicly before about the sexual abuse while doing press for Precious, she told Winfrey she didn't want to come on the show.
Mo'Nique may have given Oprah Winfrey her blessing to have her brother on The Oprah Winfrey Show, but what came as a shock to The Parkers actress was seeing not only Imes but her father, another brother, and her mother who she wasn't on "good terms" with during the time the episode was filmed. Feeling deceived and witnessing her family "downplay" the abuse she went through growing up, she attempted to contact Winfrey about the surprise guests on her show with disappointing results.
However, these two were set up to reunite again as they both attended fellow actress Lupita Nyong'o's party to celebrate the acclaim she received for 12 Years a Slave which would result in a Oscar win. After spotting Winfrey, Mo'Nique made sure to approach her.
When that talk happened, The Mo'Nique Show host approached Winfrey on why she invited her estranged family on an episode of her show. She claimed that the producers only invited her brother on the show, and that he showed up with his family without her knowledge about it- an allegation the comedic actress believed to be a lie. Then Mo'Nique claims Winfrey said to her, "If I've done anything to offend you, I apologize."
Despite the awkward confrontation, the stand-up comic actress still demands and expects a public apology from Oprah Winfrey. As for if that moment will ever come, only time will tell. You can watch Mo'Nique's spectacular performance in Precious currently on your HBO Max subscription. You can also check out our 2023 movie releases to see what else these talented actresses could appear in next.
Your Daily Blend of Entertainment News
Just your average South Floridian cinephile who believes the pen is mightier than the sword.