Rebel Wilson Reveals Funny Reaction To Seeing Cats For The First Time
Rebel Wilson shares the funny reaction she had watching herself in Cats for the first time.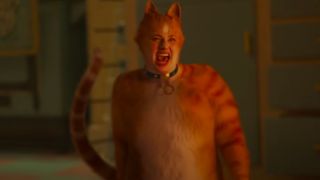 (Image credit: Universal Pictures)
When you first heard that the ever-popular/infamous musical Cats was getting the movie treatment, the reception could have gone two ways. Either this film could have had the potential to reach a whole new generation of fans or have audiences completely weirded out by the non-formulaic plot and singing human-like cats. Rebel Wilson was part of the A-list cast showing off their feline looks and had a funny reaction watching this box office-bombed film for the first time.
Poorly received movies like Cats aren't always the ones that cast members have any regrets about being a part of, sometimes they're an excuse to have a good laugh. Rebel Wilson let the cat out of the bag, so to speak, sharing her light-hearted reaction to watching Cats during a recent appearance on Bravo's Watch What Happens Live. She said:
That must have been so strange to see yourself and everyone around you wearing tight outfits, only to see Cats' viral CGI look for the finished product. It could be very hard to know what to make of it. It might have been less strange if they were wearing full costumes like the stage musical. But in this CGI world we live in, why not try to make this A-list ensemble look realistically like cats using special effects while still being able to tell who's portraying these characters?
The problem was that audiences were more freaked out by the characters' appearances than impressed. The internet had a field day when the Cats trailer premiered seeing these stars we know and love exhibiting feline features while still looking human. After viral responses, its controversial CGI changed for the finished product. Rebel Wilson absolutely loved the wild responses to the first trailer, with audiences being able to see small glimpses of this talented cast in digitally-added fur.
Rebel Wilson wasn't the only person who had an awkward reaction to watching Cats. After suffering a brutal box office opening of $6.5 million, the wildest review comments mentioned how all the cats looked "horny AF" with every song screaming "Hi, I'm the asshole cat." Theater junkie Evan Rachel Wood was "speechless" and horrified by Cats being a movie adaptation as she clearly knew the Broadway musical very well. James Corden, who played Bustopher Jones, didn't even bother seeing the Razzie-winning movie after hearing "it's terrible."
Despite the largely negative reception Cats got, the cast looks back on this failed musical movie with humor. The Pitch Perfect actress joked about the movie at the BAFTAs for a "distinct lack of nominations for felines." She even managed to spoof Cats with James Corden at the 92nd Annual Oscars wearing the costumes that probably should have made it into the film instead of the CGI mess audiences endured.
This Australian actress clearly has no regrets about showing off her prowess and even managing to lose eight pounds in four days of filming with all of that dancing. If you're curious what reaction you'll have while watching the Andrew Lloyd Webber adaptation, you can see Cats right now on your HBO Max subscription.
Your Daily Blend of Entertainment News
Just your average South Floridian cinephile who believes the pen is mightier than the sword.