Riddick 4: Furya: Everything We Know About The Vin Diesel Movie
One of Vin Diesel's best characters is returning.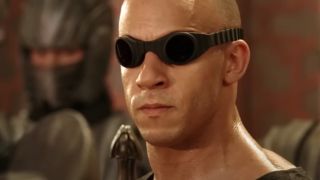 (Image credit: Universal Pictures)
This year marks the 10th anniversary of the last time we saw Vin Diesel take on the role of Richard B. Riddick in 2013's Riddick, undoubtedly one of the actor's most badass characters. Though there have been multiple teases, comments made by Diesel, and the release of concept art and storyboards for a few years now, the franchise's future has felt a little uncertain. Until now, anyway…
In February 2023, just as the world was all geared up after the release of the Fast X trailer, it was revealed that Diesel would soon be suiting up again as his iconic bounty hunter, as Riddick 4: Furya is actually happening. Though it's very early on in the process, there is actually quite a bit we know about the fourth installment in the franchise that was kicked off more than 20 years ago with Pitch Black. Let's break it down now.
What Is The Riddick 4: Furya Release Date?
No release date has been announced for Riddick 4: Furya at this point, and there's a good chance we won't know any specifics about its premiere for some time, considering a number of factors.
First, Diesel is currently in the early stages of promotion for the upcoming Guardians of the Galaxy Vol. 3 and the aforementioned Fast X, which are slated to land in theaters on May 5, and May 19, 2023, respectively. Secondly, there hasn't been any word on when exactly cameras will start rolling on the fourth Riddick movie. Taking both of those factors into consideration, we might not see the return of Richard B. Riddick until mid to late 2024, at the very earliest.
Vin Diesel Will Return As Richard B. Riddick
Over the years, everyone from Yellowstone star (and 2 Fast 2 Furious villain) Cole Hauser to Dame Judi Dench to wrestler-turned-actor Dave Bautista have made appearances in the Riddick franchise, appearing alongside Diesel's character in some shape or form. And while it's very likely Riddick 4: Furya will also feature some top-tier talent when it eventually lands on the big screen, as of right now, only Diesel's titular character has been revealed.
The long-awaited return of Riddick, the highly-skilled mercenary with a history of incredible and daring adventures, was revealed by Deadline in February 2023 at the same time that the fourth installment in the franchise was announced. Expect to hear more about the other members of the cast in the weeks and months to come.
The Movie Will Follow Riddick As He Returns To His Home Planet
When the film was announced in February 2023, Variety announced that the fourth installment in the action sci-fi franchise will follow him as he finally returns to his homeworld of Furya. He fears it could have been left in ruins by the Necromongers, the group of religious fanatics who brought death and destruction wherever they went in 2004's The Chronicles of Riddick, and who later reluctantly included him in their ranks a decade later in Riddick. But that could be the least of his troubles, as he will soon discover a new threat, one that could wipe the Furyan race from existence.
Franchise Creator David Twohy Has Said The Upcoming Sequel Will Explore 'Riddick's Genesis'
Though it sounds like Riddick 4: Furya will take place following the events of the previous movies in the franchise, comments made by franchise creator David Towhy in February 2023, make it sound as if we'll finally get more backstory for Vin Diesel's character. In a statement released alongside the movie's announcement (via The Hollywood Reporter), Towhy had this to say about the project and its goals:
The idea of exploring "Riddick's genesis" is incredibly enticing and the further expansion of this universe is something that could honestly lead to even more movies, animated productions, and video games.
David Twohy Will Return To Write And Direct Riddick 4: Furya
Diesel isn't the only major player in the franchise returning for the fourth movie, as Twohy, who wrote and directed the first three theatrical releases (as well as the 2004 anime, The Chronicles of Riddick: Dark Fury) is set to make a comeback as well. When Deadline announced the movie, the outlet also revealed that Twohy, whose other notable writing credits include The Fugitive, Waterworld, and G.I. Jane, would be writing the script and sitting in the director's chair once production got started.
However, there is no word on whether or not Riddick 4: Furya will follow in the footsteps of its predecessor and earn an R-rating.
Vin Diesel Has Been Teasing Riddick 4: Furya For A Number Of Years
Though Riddick 4: Furya is just now coming to fruition, Vin Diesel has been teasing the upcoming sequel for the better part of the past decade by posting updates on the script and even providing his social media followers with a look at various pieces of concept art and even storyboards.
One of the earliest examples of this came in late 2015, when he shared comments in a Facebook live video, where, in addition to calling his followers "angels," shared some info on the long-in-the-works project, saying the movie "might be a little more expansive in its mythology." However, at the time, Diesel teased that the movie could enter production as early as 2017, which didn't pan out.
In the following years, he would take to his Instagram account time and time again to tease the movie, including in December 2021 when he talked about its future and then again in January 2023 when he shared what appeared to be storyboards on his IG account.
We still don't know exactly when we'll get to see Riddick 4: Furya in action, but if you're looking for a great way to kill some time and get a refresher on the franchise while you wait, the first three movies are streaming with a Peacock Premium subscription. Also, don't forget to check out the 2023 movie schedule so you don't miss any of Vin Diesel's upcoming projects and everything else coming to the big screen (and streaming services) this year.
Stream Pitch Black on Peacock. (opens in new tab)
Stream The Chronicles of Riddick on Peacock. (opens in new tab)
Stream Riddick on Peacock. (opens in new tab)
Your Daily Blend of Entertainment News
Philip grew up in Louisiana (not New Orleans) before moving to St. Louis after graduating from Louisiana State University-Shreveport. When he's not writing about movies or television, Philip can be found being chased by his three kids, telling his dogs to stop yelling at the mailman, or yelling about professional wrestling to his wife. If the stars properly align, he will talk about For Love Of The Game being the best baseball movie of all time.