Ryan Reynolds And Blake Lively Are Low Key Another Couple Who Live Outside Of Hollywood
They live away from the entertainment industry, but not too far away.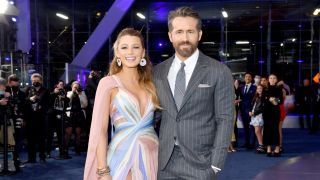 (Image credit: Noam Galai / Stringer Rights Managed-Editorial)
Like many celebrities, these days, Ryan Reynolds and Blake Lively decided to not live in Los Angeles, and found a home in a quieter area that isn't directly connected to the entertainment industry. However, while they don't live in Hollywood, they're still connected to one of the major entertainment hubs, as they have an apartment in New York City, that many other celebs famously live in. So, it seems like this power couple has found a way to have the best of both worlds.
Blake Lively And Ryan Reynolds Have A Glamorous House Upsate And An Apartment In NYC
With three kiddos and a fourth on the way, Blake Lively and Ryan Reynolds seem to have a good thing going with their two homes in New York. According to Hello, the couple has a family home north of New York City in Pound Ridge, and an apartment in Tribeca, which is also home to celebrities like Harry Styles and Jake Gyllenhaal.
The couple spends the majority of their time at their lavish home in Pound Ridge, which cost about £ 4.3 million according to the magazine, and converts to about $5.2 million in U.S. dollars. It has seven bedrooms, six bathrooms and sits on 11.65 acres of land. You can see the outside of their gorgeous home in one of Ryan Reynold's Instagram posts, and it looks like such a beautiful, and private, place to live.
Lively has also given us a sneak peek into the couple's gorgeous home in Pound Ridge on Instagram, posting photos by the pool, and inside their kitchen with a beautiful wood cabinet and an amazing coffee corner.
Considering both stars are always busy, and likely have to visit NYC and LA often for work, it makes sense that they also have an apartment in Manhattan. The luxury apartment has a private key elevator, high ceilings as well as convenient amenities, like underground parking. To put into context just how luxurious this building is, Justin Timberlake and Jessica Biel sold their penthouse in the building for $29 million. Talk about a perfect home away from home.
So, like many celebs these days, Reynolds and Lively don't live in Hollywood but, they seem to have struck a perfect balance between living in a quiet and private home, while also having the option to live in the bustling city if need be.
Blake Lively And Ryan Reynolds On An Ever-Growing List Of Celebs Who Live Outside Of Hollywood
Along with Reynolds and Lively, tons of celebrities are making the decision to leave Hollywood, which makes sense considering filming is no longer central to Los Angeles. These days some of the biggest productions happen in Atlanta, New York City, Vancouver, London and Australia, so why wouldn't people move away from LA and to a city they actually want to live in?
Both Matthew McConaughey and James Van Der Beek left LA for Texas, with the Dawson's Creek star noting that his family moved to find "balance." Hallmark's Danica McKellar also left Hollywood for a small town in rural Tennessee, saying she and her husband have been "wanting more nature for a long time." I'd assume not being constantly surrounded by peers, and maybe having some sort of anonymity in a town that's not connected to the world of entertainment is refreshing.
Check Out These Actors' Work
Be sure to check out the 2023 movie schedule to see what all these actors are working on this year.
While many stars, like McConaughey and the Reynolds/Lively family, live outside the industry but could get to LA or NYC quickly, other celebs made their move global. For example, Zac Efron left the US during the pandemic and moved to Australia; he's been living there since. Along with him, Johnny Depp also left Hollywood behind, but rather than going around the world, he went across the pond to London.
So, while many celebs have made massive moves to secluded parts of the country, areas closer to family, or all the way around the world, Ryan Reynolds and Blake Lively were a bit more lowkey about it. They seemed to have found a perfect home for themselves outside of New York City, but they are also able to easily access the city and their work when needed with their Manhattan apartment.
Your Daily Blend of Entertainment News
Riley Utley is a Weekend Editor at CinemaBlend. She spent many years working in local journalism across the country writing about art, news and sports. One of her favorite films is When Harry Met Sally and she walks around constantly quoting Ted Lasso.