See Chris Hemsworth And Ed Sheeran Trade A Guitar And Thor's Hammer In Sweet Video
They're a dynamic duo we never thought we needed so much.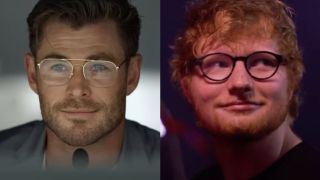 (Image credit: Netflix/Universal Studios)
Chris Hemsworth and Ed Sheeran come from different worlds. Hemsworth is a movie star who has fronted a variety of films across multiple genres, obviously including his MCU reign as OG Avenger Thor, while Sheeran is a multi-Grammy winning singer/songwriter with numerous smash hit songs and albums under his belt. Still, their worlds managed to collide in a new video, where the two swapped out some of their "tools from the trade."
In an Instagram video posted by Hemsworth, the two megastars decided to exchange a couple of noteworthy artifacts that have been instrumental to their performances in their different fields. Hemsworth offered up Thor's hammer, an essential and instantly recognizable element of his performances in the Marvel films. Meanwhile, Sheeran offered up his guitar, which he has likely written several hits on, from "Thinking Out Loud" to "Shape of You" and beyond. You can check out the epic video below:
Now this likely isn't a permanent switch or anything, though even if it is, the props department for Marvel likely has an entire room full of altnerate hammers for Hemsworth to use in his next MCU film. He has admittedly decorated his bathroom with one of them, so I'm sure there are other expendable versions. Additionally, Sheeran probably has more guitars than he can count, and is talented enough to make any instrument his own. Still, it does make for an adorable video to think they're trading off with no backsies, and I'm sure these two have a lot more in common than we may think. They seem to get along great, and I think we'd all like to see these putting their various skills together in some way in the future.
While Sheeran's skillset is mostly within the music world, the singer has tried his hand at acting several times in the past. He is a central figure in the movie Yesterday, where he plays a singer-songwriter much like himself, and has also made cameo appearances in Game of Thrones, Red Notice and Star Wars: The Rise of Skywalker. He definitely has some chops, so I could definitely see him making an appearance in a Marvel movie at some point. If Harry Styles can do it, why not Ed Sheeran?
While Hemsworth has never fancied himself a musician, I can still see the potential. Last year the Marvel star shared a hilarious video of him and his Avengers co-stars, singing "Hey Jude" by the Beatles. Hemsworth, Chris Evans, Mark Ruffalo, and Robert Downey Jr. make quite the quartet, and maybe it's about time they get the band back together. Now that they have Ed Sheeran's guitar, anything is possible.
You can catch Chris Hemsworth in his latest film Thor: Love and Thunder now with a Disney+ subscription, along with a number of other MCU films the actor has starred in. In addition, you can watch Ed Sheeran debut his acting skills in Yesterday which is currently available to rent on Amazon (opens in new tab). For more information on other films coming to theaters and streaming in the near future, make sure to check out our 2023 movie release schedule.
Your Daily Blend of Entertainment News
Writer, podcaster, CinemaBlend contributor, film and television nerd, enthusiastic person. Hoping to bring undying passion for storytelling to CinemaBlend.