Steven Spielberg Has Thoughts About The Dark Knight's Oscars Snub And How Top Gun: Maverick Fared This Year
Do this year's Best Picture nominations signal a paradigm shift in how Academy members vote?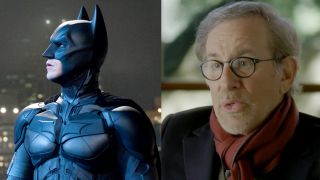 (Image credit: Warner Bros, HBO)
The Academy of Motion Picture Arts and Sciences has a long history of not giving blockbuster films (comic book movies in particular) their fair shake during awards season. Though Heath Ledger's unpredictable Joker performance received award recognition posthumously back in 2009, many felt the film was unfairly snubbed. Legendary director, Steven Spielberg, happens to be one of those people, and he's sharing his thoughts about The Dark Knight's oscar snub, and why this year's Oscar nominations for Top Gun: Maverick and Avatar: The Way of Water should be a cause for celebration.
Steven Spielberg is no stranger to big-budget crowd-pleasers. The filmmaker behind Close Encounters of the Third Kind, Raiders of the Lost Ark, and E.T. the Extra-Terrestrial, (which are some of Spielberg's best films, and were all nominated for best picture) sat down with Deadline to discuss everything from his semi-autobiographical film The Fablemans, his first screenplay Oscar nod, and why he believes theatrical box office for "grownup" movies will return. The director also said he was encouraged by the breakthrough blockbusters like Top Gun: Maverick and Avatar 2. He told the publication:
2023 was a decent year regarding popular films receiving Academy Award nominations. Maverick and The Way of Water were not the only big blockbuster films to receive nods. Not only was Black Panther: Wakanda Forever nominated for best visual effects, costume design, and makeup, it also saw one of its stars receive recognition. Angela Bassett received a Best Supporting Actress nomination for her portrayal of the late T'Challa's mother and queen of Wakanda, Ramonda, in the Marvel movies. Making her the first actor to be recognized for their work in an MCU movie by The Academy.
Watch Angela Basset In The Black Panther Movies
Marvel Movies In Order: How To Watch The MCU By Release Date And Chronologically
While Wakanda: Forever was critically well-received, the somber Marvel flick didn't garner a best-picture nomination or any other considerations outside of the more minor technical nominations. Still, Bassett's acting nomination should encourage any fan of upcoming superhero movies who want to see their favorite genre taken more seriously by The Academy. It seems to be a sign that things are changing in Hollywood.
The Academy hasn't always turned its nose up at films based on comic book-related films. There have been a few comic book movies that have received Oscar attention. Christopher Reeves's 1978 outing in Superman received Best Sound, Best Film Editing, and Best Music nominations. Tim Burton's 1989 Batman won an award for Art Direction/Set Decoration. Sam Raimi's second Spider-Man movie won an Oscar for Best Achievement in Visual Effects. Along with these, many other movies have been nominated over the years, including Black Panther getting a Best Picture nod.
While the Academy voters don't seem to have a problem awarding seemingly more minor, more technical awards to blockbuster movies, many of the more significant awards have been relegated to flicks that aren't obvious to be based on popular IP. Take 2002's Road to Perdition, for example. Road to Perdition was a neo-crime thriller adaptation of a graphic novel of the same name written by Max Allan Collins and illustrated by Richard Piers Rayner. The flick, directed by Sam Mendes, received six Oscar nominations, including Best Cinematography for Conrad L. Hall, Best Supporting Actor for Paul Newman, Best Art Direction/Set Decoration, Best Sound Mixing, Best Sound Editing, and Best Original Score by Thomas Newman.
Award consideration for Top Gun: Maverick, Avatar: The Way of Water, and Black Panther: Wakanda Forever seems to signal a paradigm shift in the minds of Oscar voters. We will have to wait to see if Spielberg is right, and but for now, we should all be celebrating their inclusion. However, I'm gonna reserve my opinion after I see how many Gold statues big tentpole films actually bring home when the Oscars air on March 12. In the meantime, check out the 2023 movie release dates to plan your next movie experience.
Your Daily Blend of Entertainment News
Ryan graduated from Missouri State University with a BA in English/Creative Writing.