Super Mario Bros. Clip Reveals Seth Rogen's Donkey Kong Voice, And The Internet (Unsurprisingly) Has Thoughts
The internet weighs in on Seth Rogen's Donkey Kong voice.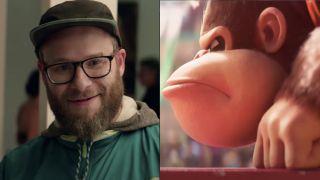 (Image credit: Lionsgate/Universal Pictures)
When the first trailer for The Super Mario Bros. Movie dropped, fan got a taste of the vocal stylings that'll be heard inside and around the Mushroom Kingdom. However, it seems that when a new promo, drops folks have mixed responses for Mario's big-screen adventure. For instance, some have noted that it's jarring to hear all-American guy Chris Pratt's controversial Italian accent for the beloved plumber, while other aspects of the flick have been received more warmly. Now, Seth Rogen's Donkey Kong voice has been revealed and, to no one's surprise, the Internet was quick to share thoughts.
A new clip from The Super Mario Bros. Movie arrived, courtesy of Illumination. The promo shows Mario going head to head with Donkey Kong only for the hero to go down in seconds due to the imposing ape's swift grabs and punches. As soon as the behemoth speaks, it's easy to point out that the actor behind the punch-out gorilla is voiced by Seth Rogen, and it's more than apparent to fans as well. One Twitter user opined that what Rogen seems to be bringing to the antagonist's voice feels out of place:
The comedic actor has done plenty of voiceover work at this point. He brought his A-game to animated features like Sausage Party, the Kung Fu Panda movies, The Lion King, Monsters Vs. Aliens and more. He could do something with his role as the video game icon here, too, but fans don't seem convinced of that just yet. Butis co-star, Anya Taylor-Joy, has been getting a lot love for her work as Princess Peach, which she says actually turned her into a gamer. In addition, Jack Black's Bowser is on point as well.
Despite some uncertainty regarding Seth Rogen's Donkey Kong voice, he does seem to be getting better reactions than colleague Chris Pratt has gotten for his turn as Mario. In fact, one person even questioned why that appears to be the case when Rogen's rendition is radically different as well:
I'm well up for the Mario movie, but I'm slightly confused (though not really) that Seth Rogen's DK voice is being met with far more acceptance, even though it doesn't seem to be any different from the Chris Pratt situation – nothing like DK, just sounds like his normal voice https://t.co/mtVhOwZchjJanuary 30, 2023
A number of people have made some interesting arguments on behalf of the Superbad icon, though. One fan even took to Twitter to pose a question to those who've chastised the decision to cast the actor as the beloved gorilla. Check out what they had to say:
I mean, that is a fair point. Also, it's hard to argue just how entertaining Seth Rogen's voice is in general. He definitely just has a naturally sharp sense of humor, but he also knows how to use his voice to hit just the right comedic notes. Chances are Rogen leaned all the way into this approach, which is probably why one Twitter user revealed that they thought they would hear another of the star's signature attributes during the promo:
Was expecting to hear that signature laugh of his pic.twitter.com/3whQQrFifQJanuary 29, 2023
Who knows, maybe Seth Rogen's voice is actually a reason why we should be pumped for The Super Mario Bros. Movie. That's all up to one's opinion, though, and it should be worth mentioning that there are plenty of other elements -- aside from the voice acting -- that need to be considered. Plus, it's got to be better than the 1993 live-action film which was considered one of the worst video game movies of all time. So it's probably best that we hold off on judging Rogen -- and Pratt, for that matter -- before the movie comes out.
You can finally see The Super Mario Bros. Movie for yourself when it opens on April 7th as part of the schedule of 2023 new movie releases.
Your Daily Blend of Entertainment News
Just your average South Floridian cinephile who believes the pen is mightier than the sword.