Wicked's Cynthia Erivo Teases Changes From The Broadway Show
Cynthia Erivo talks about the changes we can expect from the movie adaptation of Broadway's Wicked.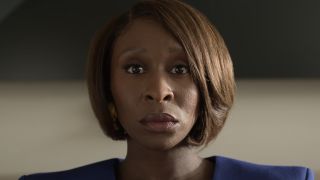 (Image credit: Apple TV+)
The Broadway musical Wicked is an example of a show that fans have been itching to see on the big screen. With the Wicked movie finally happening, you may be wondering how this big-screen adaptation will compare to the stage version. Cynthia Erivo, who will be playing Elphaba (aka The Wicked Witch of the West), teases what kind of changes audiences can expect.
If you're a diehard Broadway musical fan, there's a good chance you'll be spending a lot of time watching this movie comparing what you see on the big screen to what you've seen on the theater stage. To further prepare you for how the Wicked movie will be different, Collider interviewed Elphaba herself Cynthia Erivo, who provided a little teaser for what to expect.
Based on what Cynthia Erivo is saying, it's best to go into this movie knowing you're watching Crazy Rich Asians director Jon M. Chu's vision for the Tony-winning musical. You'll get to see these infamous characters come to life, but possibly in a different way than you're used to. But, it doesn't mean the experience won't be as enjoyable. As Erivo said, the Wicked movie should allow us to get to know the characters of Elphaba and Glinda in a way we've never seen before. With the surprising twist for the Broadway musical to be adapted into two movies, this leaves plenty of room for character exploration and transition.
One thing I'm super excited about seeing the Wicked movie would be the chemistry Erivo has with Ariana Grande who will be playing Glinda. We'll be able to see the sisterhood of these two characters who appear to have nothing in common but similarities in terms of acceptance and identity. The Harriet actress continued telling Collider the Wicked musical brings the space and room for audiences to learn about the hurt these two characters have been through that they try hard to hide. But you'll also see Glinda and Elphaba have goals they want to achieve, with different methods of getting what they want.
Another question I have is how many of the musical's well-known songs will make it into Wicked's film version and if we'll receive any original songs. The English actress, unfortunately, cannot confirm which songs will be gracing our ears, but that we'll be "pleased." I'd like to believe we'll get an original song or two if this upcoming musical hopes to get some song category nominations during award season. Something else to know about the adaptation of the Broadway musical is that "the door is open" for the OG Wicked stars Kristin Chenoweth and Idina Menzel to make a cameo. These Broadway stars have said before they would love to take part in the movie, so this would be a fantastic surprise if we were to see them appear in some way.
As Wicked comes closer to hitting our theaters, it'll be exciting to find out what this musical adaptation will give us that's different from the stage and book versions. You have all year to listen to Wicked's soundtrack on repeat to better prepare for Part One which will be premiering Christmas of 2024 and Part Two being released a year later. Until then, check out our 2023 movie releases so you'll know what movies to look forward to this year.
Your Daily Blend of Entertainment News
Just your average South Floridian cinephile who believes the pen is mightier than the sword.