Women Talking Won An Oscar After Its Snubs, And I'm So Hyped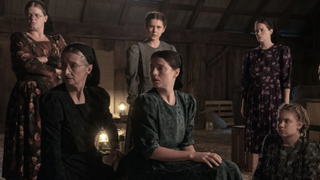 (Image credit: United Artists)
After being snubbed in every acting category and Best Director, Women Talking won the Oscar for Best Adapted Screenplay, and I'm so hyped about it! There's been a lot of talk this award season about female directors being left out of the race, as Aftersun and The Woman King's leaders were also snubbed. And now, to see Sarah Polley on the stage, as one of the 2023 Oscar winners, accepting an award for her beautiful movie that she wrote and directed brought me so much joy.
The movie is a vital piece of work that is ingeniously written, and the women in the film deliver Polley's prose beautifully. To see this film represented on the biggest stage in movies is empowering and gives me so much hope for the future.
Not only was it empowering to see Polley on stage, her speech was also perfect, biting and eloquent. She started by making a joke about The Academy not being offended by the words Women and Talking being in the same title, and then said:
You can see her full acceptance speech here:
I was so profoundly moved by Women Talking, and I was devastated when Polley didn't get nominated for the movie, and the cast of Women Talking received no acting nominations. In fact, Polley's Oscar expectations for her movie being nominated were so low she had an appointment when they were announced, which is so sad. And it was a surprise that movie was nominated for Best Adapted Screenplay and Best Picture. So to see it win, has me so stoked and full of happiness.
I'm so thrilled that this vital story about women making the courageous decision to fight, stay or leave got the recognition it deserved. As a young woman being able to see someone who looks like me on stage is profoundly meaningful, and seeing women on stage at the Oscars for work like Women Talking and standing up for themselves gives me so much hope for the future.
However, while I'm so hyped for Sarah Polley, and so proud of her, I think it's still important that we acknowledge how much more this movie deserved. The fact that Claire Foy, Rooney Mara and the ensemble weren't nominated is devastating, and the fact that Polley as well as many other female directors weren't represented in the Best Director race shows that there is still work to do.
While there's work to do, and a long way to go, Polley's win is a massive step in the right direction and shows so many women that their voices can be heard, and will be heard.
Your Daily Blend of Entertainment News
Riley Utley is a Weekend Editor at CinemaBlend. She spent many years working in local journalism across the country writing about art, news and sports. One of her favorite films is When Harry Met Sally and she walks around constantly quoting Ted Lasso.