10 Actors Who Desperately Need A Hit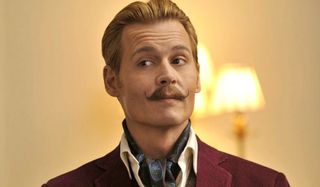 Success is a fickle mistress. Hollywood icons – like shooting stars – often are burning bright one moment, then tumbling down to earth the next. And it's getting harder and harder to predict success nowadays. Superhero pictures and Star Wars stories may be a given. But with so many entertainment options available to the modern consumer, a movie really needs to have a massive hook to land an audience… and sustain a silver-screen performer's career.
These 10 stars understand. They once sat on a Hollywood pedestal, collecting accolades and enjoying financial perks after cranking out hit after hit. But the well of creativity has run dry for these once bankable talents, and they could use a hit to boost them back up to the high echelon of Hollywood royalty. Hey casting agents? Give these guys a call if you have a juicy role on your radars, m'kay?
Bruce Willis
Last hit: As the member of a cast, G.I. Joe: Retaliation ($122.5 million domestically). As a lead, though, you have to go back to 2012's Looper or 2007's Live Free or Die Hard, which earned $$134.5 million.
Recent misses: Willis has struggled to draw crowds to Sin City 2, Lay the Favorite, The Cold Light of Day, Cop Out and Surrogates. Also, A Good Day to Die Hard wildly underperformed in 2013, earning $67.3M domestically.
Next chance: Willis continues to struggle. He has Vice later this year, and is in Rock the Kasbah, which has potential. But his most recent project, Wake, shut down due to lack of financing. He has been added to the next Woody Allen picture, but Allen doesn't deliver smash hits anymore. Die Hard 6, anyone?
Johnny Depp
Last hit: Into the Woods made money, though Depp only had one scene. You have to go back to 2011's Pirates of the Caribbean: On Stranger Tides to unearth the last Depp hit.
Recent misses: Well, Mortdecai was a colossal bomb ($7 million). Transcendence didn't do well. The Lone Ranger and Dark Shadows made up ground overseas, while The Rum Diary was a bust.
Next chance: Not surprisingly, Depp's running (swimming?) right back to his cash cow. He's currently filming Pirates of the Caribbean: Please Can I Have Some More Of Your Money? (Probably not the sequel's real title.)
Eddie Murphy
Last hit: Outside of the Shrek franchise? I'll give Murphy 2011's Tower Heist, a serviceable comedy that also had Ben Stiller. Also, Dreamgirls earned him an Oscar nomination (and $103 million) back in 2006.
Recent misses: These titles pile up. Do you remember A Thousand Words, Imagine That, Meet Dave, or Norbit? Hell, did you bother seeing any of them?!
Next chance: Murphy is dipping his toe back in to the showbiz pool. After the SNL appearance and presenting at the Oscars, he's doing the drama Cook, and recently took a part in Lee Daniels' Richard Pryor biopic. His fans want him to eventually do Beverly Hills Cop 4, but that ship probably has sailed.
Natalie Portman
Last hit: Let's say Thor: The Dark World, because she's a relatively important part of that Marvel series. But if you are looking for a project that doesn't get to piggyback on the Marvel brand, you are going back to 2010's Black Swan, which earned Portman an Oscar and – from the looks of it – some much needed time off.
Recent misses: Portman followed Black Swan with the relative hit No Strings Attached in 2011, then whiffed with the likes of Your Highness, The Other Woman and Hesher. She returned to Thor for part two, but it's unclear if she will stay in the MCU much longer.
Next chance: Portman's been relatively quiet on the career front, though she has parts in two indie films Knight of Cups and Jane Got a Gun, both due out later this year. Will either be hits? Eh, probably not.
Adam Sandler
Last hit: Sandler cashed in with the second Grown Ups movie in 2013, and hit with the animated Hotel Transylvania. But his last solo effort to modestly perform was Just Go With It in 2011, which barely inched past $100M – something Sandler used to achieve in his sleep.
Recent misses: Blended was the biggest whiff, as many in the industry thought a reunion with Drew Barrymore would rake in the dough. Sandler also struggled to deliver with That's My Boy, Jack & Jill and Funny People. Also, Jason Reitman's drama Men, Women and Children only earned $705,908. Total. Ouch.
Next chance: Pixels looks like it could a sleeper hit this summer, and Sandler's returning to his animated Hotel. After that, however he's taking his talents to Netflix, in a rare production/distribution deal.
Nicolas Cage
Last hit: Removing the animated The Croods, you have to go all the way back to 2007's National Treasure: Book of Secrets to find a Nicolas Cage movie that packed the theaters.
Recent misses: A ton. Cage has been working steadily in movies no one wants to see, from Left Behind and Joe to Stolen, Seeking Justice and Drive Angry. There are more, but why pile on?
Next chance: Cage has some interesting projects on the docket, including Oliver Stone's Snowden in December. He also announced sequels to both Croods and National Treasure, so if they happen, he could be back in the limelight.
Julia Roberts
Last hit: America's Sweetheart has been on a rough patch. Outside of the ensemble comedy Valentine's Day (in which she had a small part), Julia Roberts hasn't been in a movie that crossed the $100-million mark since Ocean's Twelve In 2004!
Recent misses: August: Osage County was supposed to earn Oscar's attentions. It didn't. Mirror Mirror was supposed to appeal to large family audiences. It couldn't. Eat Pray Love did OK back in 2010, but Tom Hanks' Larry Crowne was a dog with fleas ($35 million with a sweet July release date).
Next chance: Roberts is sticking with powerful, pedigreed collaborators. She's shooting an American version of The Secret In Their Eyes with director Billy Ray and co-stars Nicole Kidman, Chiwetel Ejiofor and Dean Norris. From there, she shifts to Money Monster, a drama she's shooting with George Clooney and Jack O'Connell for directoe Jodie Foster. With the right marketing, both have crossover potential.
Arnold Schwarzenegger
Last hit: In his defense, Arnold Schwarzenegger took several years off to run California. This helps explain why his last significant hit, as a solo artist, was 2003's Terminator 3: Rise of the Machines.
Recent misses: Since returning to acting, Arnold has been met with a cool reaction from former fans. Action efforts like Sabotage ($10.5 million), Escape Plan ($25M) and The Last Stand ($12M) came and went, largely ignored. Even the Expendables franchise steadily declined at the box office from film to film.
Next chance: Not surprisingly, Arnold's running back to his signature franchise once again for Terminator Genisys, due in theaters on July 1.
Jim Carrey
Last hit: It was supposed to be Dumb and Dumber To. That didn't happen. So you have to look all the way back to 2009's A Christmas Carol -- where Carrey played multiple characters – to dust off the comedian's last big hit.
Recent misses: Outside of that reunion with the Farrelly Brothers, Carrey swung and missed on Kick-Ass 2 (a movie he condemned after shooting, to be fair), the mediocre Incredible Burt Wonderstone, and the edgy indie comedy I Love You, Phillip Morris. Even Yes Man, which felt like a traditional Carrey vehicle, stalled before the $100-million mark back in 2008.
Next chance: Unknown. Possibly stung by the tepid response to Dumb and Dumber To, Carrey has nothing on the books, as reported. Rumors of a third Ace Ventura remains just that… rumors.
Vince Vaughn
Last hit: The performer who used to be "so money, baby" Hasn't made much money at the box office since 2009's Couple's Retreat and 2008's Four Christmases. Those films proved that Vaughn's usually more successful when he's paired with the right people.
Recent misses: Which means he wasn't paired with the right people in The Dilemma, The Watch, The Internship, Delivery Man or this year's Unfinished Business, because barely anyone came out to see any of those films.
Next chance: Rough stretch for Vince Vaughn, though the Swingers phenom should turn things around with his role on HBO's True Detective. As far as films, he'll surface in Peter Billingsley's Term Life later this year, but it's a crime-thriller, which means Vaughn will be out of his element. We'll see if he has the chops to pull it off.
Sean O'Connell is a journalist and CinemaBlend's Managing Editor. He's frequently found on Twitter at @Sean_OConnell. ReelBlend cohost. A movie junkie who's Infatuated with comic-book films. Helped get the Snyder Cut released, then wrote a book about it.
Your Daily Blend of Entertainment News
Thank you for signing up to CinemaBlend. You will receive a verification email shortly.
There was a problem. Please refresh the page and try again.