10 DC Movie Questions We Still Need Answered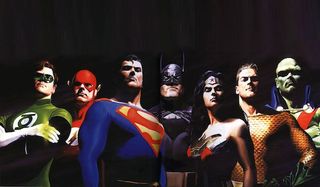 DC and Warner Bros. may not be as far along with their cinematic universe as Marvel is, but they're doing a good job of reminding us that exciting things are on the way. The past several weeks have been full of news and promotion for their upcoming films, from the Batman v Superman: Dawn of Justice teaser trailer to Suicide Squad character announcements. Since the next stage of the DC Cinematic Universe isn't set to begin until next year, we'll have to remain patient, but there's still a lot that fans are wondering about with these films.
Even though many of these movies are years away, there are still a lot of questions that need to be answered, from the fate of certain characters to the creative minds that will be helming several of these projects. Some of these might already be known, others Warner Bros. might still be figuring out, but either way, we're curious about what's coming. Here are the biggest questions that are on all of our minds regarding DC's upcoming movies.
What Kind Of Joker Will Jared Leto Be?
Jack Nicholson's Joker in 1989's Batman was a theatrical psychopath, while Heath Ledger's Joker in The Dark Knight was was more of a serious maniac bent on anarchy. So what type of Joker will Jared Leto be playing in Suicide Squad? So far the only clues we've gotten about the Clown Prince of Crime's personality in the DCCU is that it will be "cerebral and comedic," as well as possibly based on the Dark Knight Returns version of the character. Hopefully Leto's Joker will be something of an amalgamation of both Nicholson and Ledger's Jokers, having that sadistic nature while retaining the warped humor.
Who Will The Justice League Villain Be?
Batman v Superman: Dawn of Justice may be packed with heroes, but it won't be until 2017's Justice League Part One that all these characters officially band together. However, like with Loki and the Chitauri army in The Avengers, there needs to be a big enough threat that leads to the Justice League being formed. So who is the villain that the team will fight? Common guesses have included Brainiac and Darkseid, but DC and Warner Bros. remain tight-lipped on the adversary's identity. Whoever it ends up being, you can bet they'll be dangerous enough to put the whole world in jeopardy.
Who Will Play Shazam?
Obviously it's exciting that Dwayne Johnson will be playing Black Adam, but let's not forget that the movie is called Shazam. We still don't know who breathe life into the World's Mightiest Mortal. Obviously, whatever actor is chosen not only has to look impressive as a superhero, but also needs to effectively exude that child mentality. This is a character who transforms from a boy to a superpowered being by uttering a magical word. He may look like an adult, but on the inside Billy Batson is getting the ultimate wish fulfillment and will soon need to use these abilities to protect the innocent.
What Will Suicide Squad Be About?
A variety of DC supervillains, both well-known and minor, will appear in Suicide Squad, but we still don't know what the film's plot will be. The basic premise of most Suicide Squad stories is incarcerated criminals being sent on dangerous missions by the government in exchange for reduced prison sentences, but what exactly will the film's mission entail? It was rumored in March that the team may face off against Antiphon, whose mercenary team Onslaught is hunting both superheroes and villains. This has yet to be verified, but the Squad's violent set of skills will make them a difficult obstacle for anyone.
What Type Of Movie Will Wonder Woman Be?
Patty Jenkins has succeeded Michelle MacLaren as director of Wonder Woman, but we still don't know what type of movie the super heroine will lead. The only clue we have so far (excluding that 1920s setting rumor) is that Warner Bros. is reportedly looking to have Wonder Woman be more character-centric rather than a grand-scale epic. Given that Wonder Woman's cinematic origin will be based off the New 52 version, we know that Greek mythology will play a huge role in the story. It's also likely that we'll learn about Diana's Amazonian background and pay a visit to Themyscira, her home island populated only by women.
When Will We Get More Batman And Superman Movies?
When DC's film slate was announced back in October, it was also mentioned that in there will also be more solo Batman and Superman movies. That means that not only will the Batfleck get to fight criminals on his own, but we'll eventually get an official sequel to Man of Steel. DC is releasing two films per year between 2016 and 2020, so this means that in several of these years fans will be treated to three films, with the additional one being a story starring either the Kryptonian or the Dark Knight on their own. The question is when we'll see them.
Who Will Be The DCCU's Green Lantern?
There's been a lot of back and forth about which Green Lantern the DCCU will use in the Justice League films and the 2020 reboot. The top candidates seem to be either Hal Jordan (who Chris Pine is rumored to play) or John Stewart (the role Tyrese Gibson has been campaigning for). Hal Jordan has been around longer and is typically one of the founding members of the Justice League. However, John Stewart also has a large fanbase, and given the failure of the 2011 Green Lantern, Warner Bros. may decide to distance themselves from Hal and give viewers arguably the second-most recognizable Emerald Knight.
Who Will Direct The Flash?
It was reported earlier this month that The LEGO Movie writers/directors Phil Lord and Chris Miller will work on a treatment for 2018's The Flash. There's no word yet on whether the duo will be hired to write the full script or be chosen to direct the Scarlet Speedster's solo film. If they are hired as directors, it's likely the movie will have a more light-hearted feel given their comedy background. However Warner Bros. may decide to hire another creative mind to helm the project. Whoever is chosen, they need to make sure that the film has its own unique tone and isn't just a copy of the CW series.
Who Will Direct Aquaman?
Although Jason Momoa will debut as Aquaman next year, there's been no confirmation of who will direct his solo movie in 2018. Last year Mud director Jeff Nicols being looked at, and more recently Warner Bros. has had their eye on Furious 7's James Wan. Whoever takes on the project will face an interesting challenge since a significant portion of the film will take place underwater. They'll also need to make sure to make the aquatic superhero a badass, but hopefully Batman v Superman: Dawn of Justice and Justice League Part One will help with that.
Will We See Dick Grayson?
There's still no word yet on what Dick Grayson's status is in the DCCU. Batman v Superman: Dawn of Justice's teaser trailer seemed to briefly show a Robin shrine in the Batcave. However, if this is a memorial, was it Dick Grayson who perished in battle or Jason Todd? Killing Dick would certainly be a huge deviation from the comic lore, but if he is still alive, it's likely he's moved on from being Bruce Wayne's sidekick. If we eventually see him, he'll probably be fighting crime using the Nightwing identity. Perhaps we'll see him pop up in a Batman solo film to assist his one-time mentor.
Your Daily Blend of Entertainment News
Connoisseur of Marvel, DC, Star Wars, John Wick, MonsterVerse and Doctor Who lore. He's aware he looks like Harry Potter and Clark Kent.
Your Daily Blend of Entertainment News
Thank you for signing up to CinemaBlend. You will receive a verification email shortly.
There was a problem. Please refresh the page and try again.