Deadpool Puts His Best Foot Forward In Latest Behind-The-Scenes Pic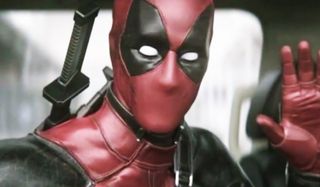 Ryan Reynolds has been busy kicking ass, taking names, and running off at the mouth on the set of Deadpool. The solo X-Men spinoff is in the heat of production, and sometimes when you spend all day hacking and slashing your enemies with samurai swords, you need to cozy up by your electronic fire place and kick up your feet. That's exactly what Deadpool is doing in the latest behind-the-scenes photo.
Reynolds has been keeping us all blissfully up to date on the latest happenings from the Deadpool set, including his R&R time. Posted to Instagram, our latest look at the set shows off the actor's legs as he unwinds in his superhero costume. This is not the most exciting image we've seen from the film -- that one goes to the pic of Reynolds diving over a car with his guns blazing -- but any Deadpool update is a good Deadpool update. We've actually seen a lot of photos and videos from the set, including a pre-CGI look at Colossus and an epic battle on a freeway, so it's good to have these quieter moments to give more importance to the bigger reveals.
Deadpool tells the story of Wade Wilson's journey to becoming the Merc with the Mouth. A former Special Forces operative, Wilson is submitted to an iffy experimental procedure that leaves him royalled messed up but with accelerated healing. Armed with his signature swords, a couple of pistols, and a dark sense of humor, he's on the hunt for the ones who made him this way. It's reading very X-Men Origins: Wolverine, but hopefully 100 times better. Reynolds and his Deadpool director Tim Miller have been wanting to make this film for years, but for one reason or another, 20th Century Fox never green lit the project until that test footage leaked online and blew up the blogosphere.
In addition to Reynolds and Miller, we also have Fox's Marvel guru Simon Kinberg on script duties, Silicon Valley funny man T.J. Miller as Weasel, MMA badass Gina Carano as the Morlock known as Angel Dust, Morena Baccarin as Deadpool's love interest Vanessa Carlysle (a.k.a. Copycat), Ed Skrein as Ajax, and Brianna Hildebrand as the telepath/precog Ellie Phimister (a.k.a. Negasonic Teenage Warhead). If you think these are the only characters popping in to say hello, even for a brief stint, then you're as mentally unstable as our titular hero.
Deadpool is scheduled to hit theaters on February 12, 2016.
Your Daily Blend of Entertainment News
Your Daily Blend of Entertainment News
Thank you for signing up to CinemaBlend. You will receive a verification email shortly.
There was a problem. Please refresh the page and try again.