11 Tribeca Film Festival Movies You're Going To Hear A Lot About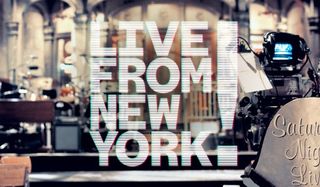 It's that time of year again when New York is flooded with celebs, Manhattan's elite and film fanatics for the week-and-a-half-long Tribeca Film Festival. The festival is open to press, celebs and the general public, as the city celebrates numerous films making their debuts. This year's festivities include a slew of world premieres, one highly anticipated SNL documentary to kick things off, and a couple high-profile anniversary celebrations to pique your interest. And it all comes to a close with a 25th anniversary screening of Goodfellas with Martin Scorsese and his cast.
As we set out to cover the festival, which starts on the night of April 15 with a screening of Live From New York!, there are a lot of titles we're eager to see. From James Franco's latest effort, to a Michael Fassbender-led Western, to a dramatic transformation from an SNL alum, to a few star-studded affairs, the 2015 Tribeca Film Festival has a lot to offer movie lovers. If you're planning on attending, here are 11 films you should check out.
1. The Adderall Diaries
No, this is not just the title memoirs about all of our early high school years. (Just kidding…kind of.) It's actually the title of the adaptation of Stephen Elliott's memoirs. Starring James Franco and Ed Harris, the film tells the story of a writer navigating through an amphetamine haze, while suffering from writer's block and becoming increasingly obsessed with a high-profile murder trial. This environment forces him to relive some of his childhood's harsher memories, but soon his distant father emerges back into the picture and blurs the line separating reality and the festering mirages of a drug-addled mind. Franco has his fair share of haters, but even they have to admit this guy takes interesting risks with his films. And The Adderall Diaries is another eye-catching title.
2. Live From New York!
Any hardcore SNL fan has read the Tom Shales and James Andrew Miller book Live From New York! and have seen James Franco's documentary that premiered on Hulu late last year. And now, there's more to love through this new documentary from filmmaker Bao Nguyen. Live From New York! delves into the early years of the late-night sketch comedy show through rare archival footage and interviews with SNL legends and musical guests, journalists and hosts, and many others. What better way to open the Tribeca Film Festival? This is perfect timing for a film of this kind. SNL is in the midst of celebrating its 40th anniversary, a special episode for which aired this past February with a slew of celebrity guests. It's always a welcome treat to see where the whole shebang got started.
3. Tumbledown
There is a select number of comedians who can traverse new, dramatic grounds. Adam Sandler has done it, Kristen Wiig and Bill Hader are doing it, Mo'Nique, Will Ferrell, the list goes on. Jason Sudeikis is another, and while he hasn't completely shied away from the dramatics, he's certainly more known for his days on SNL and guesting on Portlandia and 30 Rock. With Tumbledown, he jumps further over to the other side of the fence than he's ever leapt. Sudeikis stars opposite Rebecca Hall (Transcendent, Iron Man 3) in this story of two people, Hannah and Andrew, looking to write biographies on the same person: Hannah's late folk-legend husband. While this doesn't seem like a completely dark turn, but rather more along the lines of Wiig and Hader in The Skeleton Twins, it'll be interesting to watch how Sudeikis adapts to this new role.
4. Anesthesia
Tim Blake Nelson is quite the accomplished actor, having appeared in a lengthy list of roles over the years. Marvelites are no doubt looking forward to seeing him as the man who would be The Mole Man in Josh Trank's Fantastic Four reboot. But as he sets out to debut his latest directorial effort, he's surrounded himself with a dynamite cast that cannot be ignored. Kristen Stewart, Law & Order's Sam Waterston, Glenn Close, The Strain's Corey Stoll and The Wire's Michael K. Williams populate Anesthesia, which also features Nelson in a role. The film is described as a meditation on New York City; a professor at Columbia is brutally mugged, and in his need to reflect on the events that led to this moment, it also brings together a seemingly disconnected group of people.
5. Mojave
Oscar Isaac's star continues to rise. Since his role in the Coen brothers' Inside Llewyn Davis, he's been strategically plotting his ascension with The Two Faces of January, A Most Violent Year and Ex Machina. Obviously, Star Wars: Episode 7 is all anyone can talk about. Well, that and X-Men: Apocalypse, but we know which one is more buzz worthy. His next move comes with Mojave. Garrett Hedlund plays a suicidal artist who goes into the desert in search of meaning. It's there that he meets Oscar Isaac's seemingly harmless drifter. Mojave is making its debut at the Tribeca Film Festival, which makes it a top priority for anyone attending. Isaac has had an incredible career so far with incredible performances, and he's showing no signs of slowing down.
6. Slow West
We don't have nearly enough modern Westerns. Django Unchained was a nice stylistic throwback to classic shoot-'em-up Spaghetti Westerns — though there was a ton more blood and gore befitting of a Quentin Tarantino piece — but it's a lonely title. And A Million Ways To Die In The West doesn't count. Could Slow West add another impressive film to the docket? Kodi Smitt-McPhee is one to watch, and before he debuts his Nightcrawler action in X-Men: Apocalypse, you can see him ride alongside Michael Fassbender on the American frontier. The directorial debut of Scottish filmmaker John Maclean premiered at Sundance this past January and continued making the film festival rounds to pretty stellar reviews. Given the cast, the genre, the rave reviews and the excitement of a newbie director making his first major statement, I'm excited to see if it lives up to the chatter.
7. Franny
The last time Richard Gere held our attention was in 2012's Arbitage. No, Movie 43 and The Second Best Exotic Marigold Hotel don't count. I'm talking about a truly captivating performance. I hoping to see that again at Tribeca with Franny. Here he plays a rich man who forces himself into the lives of his late friend's daughter (Elle Fanning) and her new husband (Theo James). I've also been eager to see the object of every Divergent fan's desire outside the young-adult realm, and in something of actual substance. Franny is set to make its debut at the film festival, and early descriptions peg this as a focused narrative of a man exploring his painful past and the idea of family. If Gere doesn't pull out a showstopper, though, there's always Time Out of Mind to look forward to. After screening at the Toronto Film Festival, it's set to premiere later this year.
8. Man Up
Lake Bell is a delight. We fell in love with her through In A World…, which spotlighted her quirky, spontaneous wit, and I'm eager to see even more from her. With Man Up, she stars opposite funny man Simon Pegg in a romantic comedy as a woman, Nancy, who has all but given up on love. When a mix up involving a self-help book leads a man to believe she is his blind date, Nancy decides to see where the relationship takes her. Pegg has his hands full with a couple major franchises — he plays Benji in the Mission: Impossible films, and he both features in and is writing the script for the upcoming Star Trek 3. But when he takes time out of his busy schedule for one of these quieter, more focused films, it's usually a delight.
9. Ashby
The last time we saw Emma Roberts together with Nat Wolff it was in Palo Alto with James Franco. While it wasn't the greatest thing on planet Earth, it was entertaining and thought provoking, and it helped position Wolff as an emerging talent. He reunites with Roberts in Ashby, which is said to bring a comedic edge to the old story of "young boy develops a strange relationship with an adult." That adult would be Mickey Rourke's character, a next-door neighbor who's discovered to be a former CIA assassin. If this premise wasn't intriguing enough, there's also the appearance of Sarah Silverman as Wolff's on-screen mother. The woman famous for her often times inappropriate humor debuted her dramatic transformation in I Smile Back at Sundance earlier this year, and Ashby could be a preview of what's coming.
10. Hungry Hearts
To be honest, I think I've liked Adam Driver in everything he has ever been in. It may not have been "love," but it was definitely "like." The Girls star is strategically continuing his rise to stardom with Inside Llewyn Davis, What If, Tracks, This Is Where I Leave You and While We're Young, all of which are leading up to Star Wars: The Force Awakens. Hungry Hearts seems like another stepping stone, and Driver's name is enough to pique my interest. The film tells of a man, Jude, who meets and falls in love with a woman, Mina. After the pair goes through the motions of an early love, they are soon celebrating a pregnancy. But Mina's trip to a psychic is influencing her actions in unforeseen ways, which lead Jude to a terrifying realization.
11. Goodfellas
This year's Tribeca Film Festival is celebrating a couple of big anniversaries, one of which is Goodfella's 25th. A special screening of the film, directed by Martin Scorsese and starring Robert De Niro, Ray Liotta and Joe Pesci, will close out the festival. In addition, the filmmaker and his cast will join the audience after the screening for a special conversation. Goodfellas is a mob drama focusing on Henry Hill (Liotta) and his friends, as they work their way up the mob hierarchy. Pesci won the Oscar for Best Supporting Actor in 1991, while the film as a whole was nominated for six Academy Awards.
Your Daily Blend of Entertainment News
Thank you for signing up to CinemaBlend. You will receive a verification email shortly.
There was a problem. Please refresh the page and try again.