13 Gigantic Movies That Are All Coming Out In 2017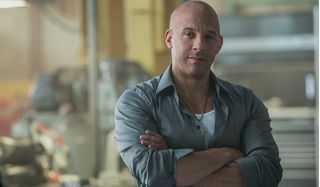 As has been long promised, 2015 is shaping up to be a record-breaking year in movie history, with tons of sequels, origin stories, and event pictures stuffing the ledgers of Hollywood studios across town. Yet after the recent info dump from CinemaCon in Las Vegas, it looks like we're going to be in store for an even bigger year in 2017!
Just looking at the schedule gives us anxiety, and it has become extremely hard to pick a limited list of favorites in what's shaping up to be another overcrowded year. Still, pick favorites we must, so we've got a list of 15 of 'em for you, in chronological order, right here! Start saving your pennies, kids, because 2017 is out for your wallets and your eyeballs!
Fifty Shades Darker
After the wrangling that had to happen with finding a new writer following Kelly Marcel's departure, Fifty Shades Darker is on track for a 2017 release date. Stepping in for Marcel is E.L. James' husband, Niall Leonard, and they have a new director in James Foley. Fans might have to wait a little longer than they'd like to see the continuing adventures of Christian Grey and Anastasia Steele, but if the fan base is as passionate for the sequel as they were for the first installment, we're sure they'll have no problem waiting. It's the Christian (Grey) thing to do, after all.
Release Date: 2/10/17
LEGO Batman
The LEGO Movie allowed Will Arnett's portrayal of Batman to steal the show, and in the spirit of their famous video game franchise, LEGO is taking another IP for a spin in building block form. While the storyline is still mostly under wraps, there's still been some crumbs promising hilarity as well as a tribute to every portrayal of Batman thus far. Lord and Miller passed the directing gig to Chris McKay, but even just their producer's muscles should ensure this one will be enjoyable for all of the LEGO Movie fans they made last year.
Release Date: 2/10/17
Hugh Jackman has one last Wolverine picture in him, and that last film is coming in 2017. James Mangold will be reprising his directing duties after his successful tenure on The Wolverine, telling a story set in the future where mutants are all but extinct, and Logan and Charles Xavier (Patrick Stewart) live in hiding. It's not a lot to go on, but with the two most successful components of the last film's success in play, it's hard not to be excited that they'll be sending Wolverine off with a bang.
Release Date: 3/3/17
Kong: Skull Island
A reboot of King Kong would normally get laughed at in this day and age. Which is why the fact that Legendary got the rights to the character was the first sign that things were going the right way, as they know how to take an outdated, often mocked classic monster and turn them into a modern menace. Throw in Bria Larson, John C. Reilly, John Goodman and Tom Hiddleston into the mix, and we have a sneaking suspicion that this film will do well enough that Godzilla just might get to meet his Legendary playmate in a big-screen crossover battle.
Release Date: 3/10/17
After fans flocked to see Cinderella and The Jungle Book, Walt Disney's Beauty And The Beast seems ready to replicate that glorious success in 2017. With its cast set and ready to go, director Bill Condon is reviving a page of our childhood in live action. Emma Watson and Dan Stevens lead a cast that includes everyone from Luke Evans and Josh Gad to the golden trio of Emma Thompson, Kevin Kline, and Sir Ian McKellen. All of the stars look to be aligning, and Beauty And The Beast already sounds like it'll be a delight for children and adults.
Release Date: 3/17/17
The Fate of the Furious
There was legitimate doubt that we'd even get a Fast 8, especially after the fitting ending Paul Walker's character was given at the end of Furious 7. With his character's finale looking like it doubled as a series finale, fans thought they'd never see Dom and the rest of the crew back in action. Thankfully, Vin Diesel himself confirmed that The Fate of the Furious is fueling up for another go in the same slot it filled this year. The twist? Vin Diesel's Dom is turning to the Dark Side, funded by new villain Charlize Theron. Can the rest of Dom's family rally to bring their leader down? Find out in April.
Release Date: 4/14/17
Guardians Of The Galaxy Vol. 2
Admit it, you miss Rocket Raccoon already. There's only so many times you can watch your Guardians Of The Galaxy Blu-ray before you go mad over having to wait so long for the sequel. Still, the sequel is almost here, and James Gunn promises the father of all conflicts in this next one. No, literally, it's all about the dads in this one – he said it himself. With the entire crew back among the stars, the trouble they could get into is as limitless as Star Lord's ego. Whatever it is, though, it just might lead to some complications for The Avengers down the road. Couldn't it?
Release Date: 5/5/17
Wonder Woman
The DCEU continues to expand, following Batman v Superman and Suicide Squad, with a Wonder Woman film slated for June 2017. Gal Gadot has obviously been working her ass off to get into shape as the titular Amazonian, and with Batman v. Superman: Dawn Of Justice introducing her character properly, we'll be ready to see her take center stage by the time the release window rolls around. Which is a very good thing, considering her standalone adventure will probably be the catalyst for another important DC film that comes a couple of months after this one. Chris Pine co-stars as Steve Trevor, and we're hearing the villain in this one may be Earth-shattering. Stay tuned for more details as we get closer to release.
Release Date: 6/2/17
Spider-Man: Homecoming
Spider Man is heading home to Marvel Studios for the first time! Spider-Man: Homecoming is the movie that will bring us back to Peter Parker's (Tom Holland) high school days, and will continue the threads we saw formed during his initial appearance in Captain America: Civil War. We know that Michael Keaton is playing The Vulture in this solo adventure, and that both Happy Hogan (Jon Favreau) and Tony Stark (Robert Downey Jr.) are along for the ride. But it's Tom Holland's show as Spidey, so let's see what he has in store.
Release Date: 7/7/17
War For The Planet Of The Apes Sequel
With Humanity and The Apes properly divided, and the military assumed to be heading to the ruins of San Francisco, the sequel to Dawn Of The Planet Of The Apes looks like it will be one of diplomacy and/or war games. Matt Reeves' 2014 sequel blew the doors off of a saga that was once known for its vastly diminished returns between sequels, yet in this case, the complete opposite is true. The series is as strong as ever, and the third frame in Caesar's rise to world domination promises to be as nuanced and brutal as the last.
Release Date: 7/14/17
From the looks and sounds of The Avengers: Age Of Ultron, it seems as if Thor is going to be put through the ringer. He'd have to be in order to go back to Asgard, which will probably make him even more enraged when he finds out that his delinquent adopted brother has taken over their homeland. All we need to hear is those sentences above, and we're already looking forward to Thor: Ragnarok. Our fingers are crossed that the third time is a charm, and that Chris Hemsworth will finally get to shine in a Marvel movie that makes us forget the enjoyable, if not weak predecessors in the Thor line of films. All snark aside, the set up for the third flick sounds pretty bad-assed, with Mark Ruffalo's Hulk playing a key role. It will be here soon.
Release Date:11/3/17
Justice League
With DC's building blocks already in play, it looks like we're going to see the darkest, grittiest version of the Justice League we've seen since… well, since ever. The fact that we're even getting a Justice League film is exciting enough, considering we've been teased so many times in the past. While it still needs to win us over with all that happens before it, Justice League still has a spot on our list – and in our hearts – because it's the stuff that geeks are made of.
Release Date:11/17/17
Star Wars: Episode VIII
If there's any Star Wars announcement that excited the fan base more than J.J. Abrams being announced as the director, it most certainly has to be the announcement that Rian Johnson would be taking over for the middle installment of the continuing trilogy. With his work on such dark masterpieces as Brick and Looper, Johnson's sensibilities are cut out for the phase in the Star Wars trilogy that usually is reserved for somber and brooding uncertainty. Considering that The First Order will more than likely be just getting started with their villainous ways, and that Darth Vader helmet still requiring an explanation, Star Wars: Episode VIII is going to be a hell of a follow up to The Force Awakens.
Release Date: 12/15/17
Your Daily Blend of Entertainment News
Senior Movies Contributor
CinemaBlend's James Bond (expert). Also versed in Large Scale Aggressors, time travel, and Guillermo del Toro. He fights for The User.
Your Daily Blend of Entertainment News
Thank you for signing up to CinemaBlend. You will receive a verification email shortly.
There was a problem. Please refresh the page and try again.