Angelina Jolie Returning For Maleficent 2, Get The Details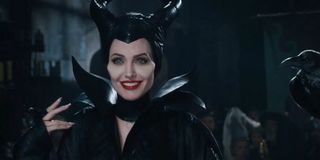 Hold on to those black, plastic horn headpieces you bought at Disney World, because Maleficent 2 is officially in development. I suppose weirder things have happened, like a Snow White and the Huntsman sequel without Snow White. Nevertheless, the Mouse House isn't ready to give up its box-office-busting witch. Oh dear, what an awkward situation.
The Wrap was the first to report the news and, according to the trade, Angelina Jolie is expected to reprise her role as Maleficent, the goodhearted fairy who turned evil after getting scorned by a childhood friend. Though she hasn't officially signed on, Disney is confident in her return, considering you can't have Maleficent 2 and cut out the woman who made her a big-screen sensation.
Maleficent debuted in May of last year and told the story of the all-powerful witch from Sleeping Beauty. Growing up as a fairy in the forest as a guardian of Mother Nature alongside her fellow supernatural creatures, her wings were chopped off by an overly ambitious and self-centered young man who would grow up to become King Stefan. As a result, her kind heart filled with rage and she sought revenge on the man who scarred her by cursing his firstborn, Aurora. She later grew fond of her and eventually came to love the child.
More so than other fairy tale sequels, it seems like an impossible task to guess the story Maleficent 2 will tell. The Wrap notes that Linda Woolverton is in talks to pen the script. Considering she wrote the first film, as well as the stories for the upcoming Alice in Wonderland sequel and live-action Beauty and the Beast, she seems like she knows her fairy tales. However, if there was anything that ever existed that seemed unnecessary, Maleficent 2 just topped it.
If Jolie signs on in an official capacity, which it sounds like she will, it would be a major change of heart for the actress. She's usually not one to make a sequel of anything, including ones for Salt and Wanted, both of which she turned down in her post-Tomb Raider career. She said during the promotional tour for the film that the character has been a favorite of hers since childhood. She also teased that, although it's hard to top such a character, there might be an opportunity to play her again. And when it comes to Hollywood, never say never.
In addition to Jolie, Maleficent also featured Elle Fanning (Aurora), Sharlto Copley (Stefan), Sam Riley (Maleficent's shape-changing companion Diaval), Brenton Thwaites (Prince Phillip), Juno Temple (Thistlewit), Imelda Staunton (Knotgrass) and Leslie Manville (Flittle). Aside from Copley, whose character met his end in the first film, it's unclear whether any of these actors will return for the sequel.
Your Daily Blend of Entertainment News