5 James Bond Movies To Watch In Preparation For Spectre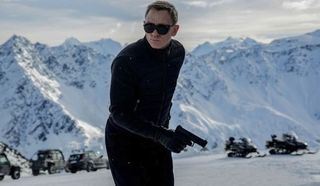 If you're a fan of international intrigue, dashing secret agents, sultry femme fatales, cool spy gadgets, and you drink your martinis shaken, not stirred, this is a week you've been waiting for. The latest James Bond adventure, Spectre, finally hits theaters this week, and we're all pretty psyched. Check out our review HERE.
The 24th James Bond movie, which reteams star Daniel Craig and director Sam Mendes, is hugely referential to the rest of the franchise, and we've put together a quick list of some of the super spy's previous outings that you may want to check out as a refresher before queuing up for Spectre on Friday, November 6 (unless you live in the U.K. and have already seen it).
We'll try to keep this as un-spoilery as possible and stick to things that have been shown in the trailers and such, but just a heads up, there may be some things revealed beyond this point that you'd rather not know if you prefer to go into Spectre cold. Tread lightly.
Skyfall
We'll start with the obvious one, but in all honesty, this could very well read "watch all the Daniel Craig Bond films" instead of just Skyfall. However, the action of Spectre does follow on the heels of Skyfall, and in fact events of that film provide the main impetus for the story this time out and the new film continues to dig into James Bond's past much like its predecessor. But more than being built on only the last outing, Spectre draws heavily from the last three films. In many ways it watches like the culmination of Craig's run as the super spy, almost like a concluding chapter to his narrative. It tips its cap to tons of other Bond films, but draws the most heavily from Casino Royale, Quantum of Solace, and Skyfall, so it wouldn't hurt to revisit those movies.
Live And Let Die
The opening of Spectre is nothing short of spectacular and may actually be the highlight of the entire movie—it's the kind of sequence that, when you stumble across on TV years from now, you'll stop whatever you're doing to watch. Set during a massive Day of the Dead festival in Mexico City, it begins with an epic single take that tracks a skull-mask-wearing James Bond through the crowd of revelers as he hunts his quarry. The sinister images, especially the mask and top hat the protagonist wears, are obvious throwbacks to 1973's Live and Let Die, Roger Moore's first turn as Bond, and the scenes involving voodoo and Baron Samedi on the Caribbean island of San Monique and in New Orleans. If only there was a coffin full of snakes.
Goldfinger
Spectre features one of most popular Bond movie tropes, the hulking, near-silent henchman who shows up, kicks ass, and takes care of business with a minimum of fuss and muss. This version, Mr. Hinx, is played by the terrifying slab of physical menace that is former professional wrestler Dave Bautista, but the peak as far as this formula goes is, hands down, Harold Sakata's Oddjob from 1964's Goldfinger. Mr. Hinx is, admittedly, less of a manservant that Oddjob, and has a more to do than guard his billionaire boss. Though he is involved in both the best chase and fight in the movie, he does not have a sweet razor-edged bowler to throw around, which is a bummer. You could also give The Spy Who Loved Me a watch for the scenes with Jaws, as Mr. Hinx shares some of his hulking DNA as well.
On Her Majesty's Secret Service
One of the earliest Spectre photos released shows Daniel Craig's James Bond, decked out in shades and warm winter clothes, standing in the snow with a gun in his hand. This is almost identical to a shot from 1969's On Her Majesty's Secret Service, second Bond George Lazenby's only turn as the iconic spy. OHMSS also features a medical facility inexplicably located atop the Swiss Alps, and Bond's latest cinematic endeavor takes him to a similar location with a similar purpose. Between a key scene that takes place in an isolated gondola, a harrowing down-the-mountain chase, and even a dilapidated barn, there may be more references to 007's sixth big screen escapade than any other single movie in his extensive canon.
Thunderball
SPecial Executive for Counter-intelligence, Terrorism, Revenge, and Extortion, better known as the nefarious international band of bad guys SPECTRE, obviously plays a role in the events of Spectre. Shocking I know. They've been largely absent in the Craig years, but come roaring back with a vengeance here. A kind of sprawling commercial criminal enterprise that uses politics for their own ends, rather than having specific political aims of their own, the organization is first introduced to us in Dr. No. While starting at the beginning is never a bad idea, 1965's Thunderball is most explicitly alluded to in Spectre (the 1961 novel is also where SPECTRE first rears its ugly head). That large, shadowy group meeting is overtly referenced in the 24th Bond film (though definitely in more stylized fashion), even down to the near-silent murder and casual acceptance that such things just happen at these gatherings. And there's a freakin' jetpack, it's hard to go wrong with a jetpack.
Your Daily Blend of Entertainment News
Thank you for signing up to CinemaBlend. You will receive a verification email shortly.
There was a problem. Please refresh the page and try again.