6 Times Captain America Proved He's An American Hero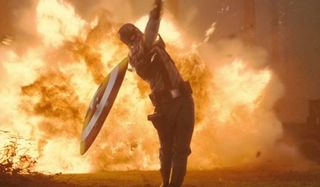 Captain America has been one of pop culture's most prominent superheroes for 75 years, serving not just as the United States' patriotic defender, but also fighting for what's right no matter what. This mission extends to live action, as we've watched Chris Evans' iteration of the character fight for justice across two solo movies, soon to be three with Captain America: Civil War, and two Avengers movies. Whether it was in World War II or in the present day, Steve has proved himself as one of the MCU's greatest protectors.
We've seen Captain America beat up many villains over the years, from HYDRA agents to Ultron drones, but what makes him special isn't just his Super Soldier abilities or his uncanny shield throwing. There have been key moments where he's taken action that proved he's able to inspire others or has been willing to sacrifice his life for the greater good. Before Captain America: Civil War arrives later this week, we're highlighting Steve's most heroic moments in the MCU so far, when he went above and beyond the call of duty.
Covering The Dummy Grenade
It's been made perfectly clear in Captain America: The First Avenger that even before Steve Rogers was injected with the Super Soldier Serum, he was always courageous. His determination to join the army despite being rejected numerous times would have been enough proof of that, but the point was really driven home when he was in boot camp. Not believing Dr. Abraham Erskine's assessment of Steve, Colonel Chester Phillips tossed a dummy grenade at the recruits and passed it off as the real deal. The other soldiers, all bigger and stronger, ran for cover, but scrawny Steve didn't think twice about jumping on top of the grenade to shield the blast. This "test" didn't prove Phillips' point like he intended, but further strengthened Erskine's belief that Steve was the right man to be given his serum.
Rescuing Red Skull's Prisoners
After Abraham Erskine was killed and the whole Super Soldier Serum was lost, Steve was left to boost morale both stateside and in Europe, but he still had that itch to help his country directly in combat. He finally got the chance to do so when he learns that Bucky Barnes' unit was captured by the Red Skull's forces. Not content with Chester Phillips's decision to simply bomb the facility and not endanger more American lives, Steve decided to dive into enemy territory by himself with nothing but a prop shield and his Super Soldier abilities. Despite the odds being stacked against him, he snuck in and freed all of the prisoners, including Bucky, Dum Dum Dugan and the other Howling Commandos. He may have disobeyed orders, but by risking his life, he found an alternative to simply letting the soldiers become casualties.
Crashing Red Skull's Aircraft
Red Skull perished near the end of Captain America: The First Avenger, but unfortunately for Steve, the HYDRA villain's master plan wasn't immediately foiled. With no way to properly land the aircraft carrying the Skull's weapons of mass destruction, Steve remained on board to land it in the Arctic, where if those weapons did indeed go off, they wouldn't harm anyone else. He could have easily bailed out of the aircraft, but he knew that would mean the deaths of arguably millions, so he made the ultimate sacrifice, which usually means biting the dust. However, when you have the Super Soldier Serum running through your body, becoming a Cap-sicle doesn't equal death. He was reawakened almost 70 years later, but unfortunately, his decision still came at a cost, as almost everyone he once knew was now dead, and he was now a man out of time.
Rallying The Police Officers
Fighting alien invaders is a hard enough job, but making sure civilians are kept out of harm's way adds an extra layer of difficulty. When the Avengers found themselves in that predicament in their 2012 ensemble movie, Steve immediately began laying out how the team could contain the damage and limit civilian casualties. That's an admirable goal, but it takes more than just six heroes to accomplish that, which is why he immediately found nearby police officers to help coordinate the effort. Obviously guy dressed in a star-spangled uniform showing up in the midst of an alien attack was going to raise some eyebrows, but after Steve promptly dispatched several Chitauri in front of them, the officers complied with his defense strategy. In the midst of the chaos, Steve provided some order to the officers rather than left them in the lurch while waiting for Army reinforcements. Oh, and then he went off to save more civilians. He's a good man.
His Speech To The S.H.I.E.L.D. Agents
Steve, Black Widow, Nick Fury and more learned in Captain America: The Winter Soldier that for decades, HYDRA had been hidden within S.H.I.E.L.D. and corrupted many agents within the organization. Fortunately, not every S.H.I.E.L.D. agent was dirty, and to those who were still truly fighting the good fight, Captain America delivered a message to the, before attempting to take down Project Insight. After exposing HYDRA's presence and how the new Helicarriers would allow the terrorists to instantly wipe their enemies off the map, he implored their help to stop HYDRA and protect freedom. Ultimately, Steve and his close-knit team were responsible for disabling the Helicarriers, but thanks to folks like Sharon Carter, the technician who refused to comply with Brock Rumlow and more, they interfered enough to throw the HYDRA agents off balance. Steve inspired them to do the right thing, even if it meant paying a steep cost.
Talking Bucky Back Into His Senses
Bucky Barnes spent most of Captain America: The Winter Soldier under HYDRA's control, and when Steve discovered that the Winter Solider was really him, he tried desperately to snap his best friend back to normal. Near the end of the movie, the two found themselves still fighting aboard one of the burning Helicarriers, but even after freeing Bucky from under a massive metal frame, the brainwashed HYDRA assassin continued to attack him. So Steve did the only thing left to do: drop his shield and refuse to fight anymore. Instead of continuing the fight and refused to continue fighting. Steve showed Bucky that snapping him back to his senses was more important than winning. He risked his life to prove to Bucky that he was with him to "the end of the line," something Bucky said to him in 1940 after his mother died. Steve nearly taking this action, but his courage and selflessness ignited Bucky's "recovery," which is why he's now a protagonists in Captain America: Civil War (being framed for crimes aside).
Connoisseur of Marvel, DC, Star Wars, John Wick, MonsterVerse and Doctor Who lore. He's aware he looks like Harry Potter and Clark Kent.
Your Daily Blend of Entertainment News
Thank you for signing up to CinemaBlend. You will receive a verification email shortly.
There was a problem. Please refresh the page and try again.