8 Great Batman Villains The Franchise Needs To Finally Use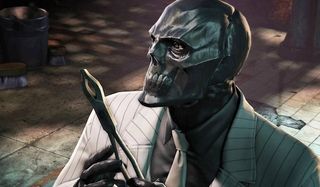 With Warner Bros reportedly fast-tracking a new solo Batman movie for the DC Extended Universe, speculation has begun about who Ben Affleck's Caped Crusader will fight first. If one report is to be believed, the first DCEU Batman movie may feature Red Hood, a.k.a. former Robin Jason Todd, as the main villain. So far, so good. But then it was also mentioned that The Joker would appear, as well. Given the Clown Prince of Crime's connections to Todd, it makes sense that he would be included in the story, but it does bring one thought: this new era of Batman can't fall back on only using different versions of the same villains from previous movies.
Many of Batman's most famous enemies have been seen in either the Burton/Schumacher series or the Nolan series. Heck, a few appeared in both continuities. There are still plenty of Batman villains that haven't had their due yet on the big screen, and this new series is the perfect chance for that to change. We've compiled a list of the antagonists that need to be introduced in the new Batman movie or in one of its sequels. Whether they're the main baddies or acting in a supporting role, they all bring something new to the table. Oh, and to clarify, we also won't be including villains already announced to appear, so no Harley Quinn and Killer Croc, since they're getting their chance to shine in Suicide Squad.
Mad Hatter
When it comes to overall creepiness, Jervis Tetch, a.k.a. The Mad Hatter, is among the top ranking in Batman's rogues gallery. He's of course inspired by the figure from Alice's Adventures in Wonderland, and often times he makes his subordinates dress like other characters from the classic book. Because his grip on reality is loose at best, he often comes across as childish, even though he's extremely intelligent. His main tools are the mind control he inserts into hats and other headwear, allowing him to control whoever is wearing them. As far as being a physical threat goes, Mad Hatter isn't particularly noteworthy (though he has held his own with Batman on a few occasions), but as a psychological threat, he can be especially terrifying as a movie's main villain, akin to what Scarecrow was in Batman Begins.
Hush
Picture Tommy Elliot, a.k.a. Hush, as what Bruce Wayne would have become had he been brought up in an abusive home and later killed his parents. Using his inherited wealth, Tommy went around the world to better himself physically and mentally like his childhood friend had done, and eventually he became an accomplished surgeon. However, his hatred of Bruce would continue to grow, and after learning from Riddler that Bruce was Batman, he adopted his own costumed identity Hush (bandages instead of a mask, pistols instead of Batarangs) to kill the Dark Knight. We seen Batman fight many twisted criminals on the big screen, but Hush provides an opportunity to give moviegoers a twisted foil for Bruce Wayne, working well as both a direct opponent and as a shadowy mastermind.
Court of Owls
The Court of Owls were only created four years ago, but their influence in Gotham City stretches back to its creation hundreds of years ago. Most of the city's citizens believe the court to be a legend, but in reality, some of its oldest families have used their money and power to wield political influence from the shadows. To enforce their will, they rely on the Talons, undead assassins they recruited from circuses who are awakened from suspended animation when needed. Ben Affleck's Batman has been fighting crime in Gotham City for decade, so imagine how he'll react when he realizes one of its greatest threats has been under his nose this whole time... not to mention a force that can't be destroyed simply by punching a few of its members.
Clayface
There have been numerous Clayfaces over the decades, but most of them have the same thing in common: their bodies have been transformed into a clay-like substance that allows them to shapeshift, making them not just dangerous to Batman, but plenty of superpowered heroes as well. Actor Basil Karlo was the first Clayface in the comics, and although he wasn't the first one to gain those distinctive powers, it would be best if they used him for the movie. After all, an actor would especially appreciate the irony of suddenly being able to transform into anybody. Clayface hasn't always been the brightest bulb in the box, so if he does appear in a movie someday, it probably wouldn't be a good idea to position him as the lead antagonist. Either use him as a subordinate, or as someone that's being manipulated by the main villain.
Black Mask
We've seen both supervillains and regular gangsters in the Batman movies, but how about we see the guy who treads the line between both? As a kid, Roman Sionis noticed the false front his wealthy parents would don in front of their socialite friends despite actually hating them, essentially putting on their own "masks." Sionis detested this hypocrisy, but after his failed business decisions as an adult led to him losing his company and fiancee, it was through a mask that he was reborn and became Black Mask. He's one of Gotham City's most notorious mob bosses, and leading the False Face Society, he has managed to control the underworld on a few occasions. He's already dangerous enough as a ruthless killer and keen manipulator, but if they wanted to add an extra element of danger, the movie's Black Mask could take a cue from the New 52 and implant mind-control technology in his mask.
Firefly
The most famous Firefly is Garfield Lynn, a pyrotechnics expert for movies who fell on hard times. In order to make ends meet, he becomes a criminal, but was soon captured by Batman and Robin. He later took things to the next level by embracing his inner pyromaniac and building a fireproof suit so he could unleash fiery destruction wherever he went. If that wasn't bad enough, Lynn was also completely unhinged, thinking he could see visions in the flames. Like Clayface, Firefly is best used as a supporting villain, but rather than simply have him as mere underling, he should instead be an assassin hired by the main antagonist to take out Batman. They're also not obligated to use Lynn as Firefly, so if Ted Carson or one of the other individuals from other media are a better fit, then put the silver getup on them.
Calendar Man
When Julian Day commits a crime, it's always going to be connected to a holiday, anniversary or other special occasion associated with that date. Although he can fight whenever necessary, it's his strategic mind and inventiveness that makes him dangerous. Originally he was one of Batman's goofier Silver Age enemies, but in the modern era, despite his fewer appearances, he's become more sinister. Rather than use him as a main antagonist, whatever movie he appears in should take inspiration from the 1998 miniseries Batman: The Long Halloween. Use him as a Hannibal Lecter-like figure that assists Batman with a case from behind his cell in Arkham Asylum... though that wouldn't preclude him from causing his own brand of trouble later on should he escape. After all, he's still a criminal at heart.
Hugo Strange
You don't have to have a strange gimmick or wear a colorful costume to be a Batman supervillain. It's all about the right mindset, and Doctor Hugo Strange has that in spades. When Strange debuted in 1940 (only a few months before Joker and Catwoman), he was a stereotypical mad scientist, but in the modern era, he's best known as a psychiatrist who uses his knowledge of biology, chemistry and the human mind to torment the weak. Strange was hired by the GCPD to help them capture Batman, and he grew so obsessed with the Caped Crusader that he started dressing like him in private. Eventually he deduced that Bruce Wayne was Batman, which has since become his crowning achievement. Other media projects have adapted this realization, and it should be no different for a live-action Batman movie, especially if Strange is the only villain to have accomplished this feat after all these years Batman's been active. Oh, and if learning Batman's secret identity isn't enough for you, Strange also controls the Monster Men, Strange's test subjects who have been turned into gigantic and mindless abominations.
This poll is no longer available.
Your Daily Blend of Entertainment News
Connoisseur of Marvel, DC, Star Wars, John Wick, MonsterVerse and Doctor Who lore. He's aware he looks like Harry Potter and Clark Kent.
Your Daily Blend of Entertainment News
Thank you for signing up to CinemaBlend. You will receive a verification email shortly.
There was a problem. Please refresh the page and try again.