Adam Scott's The Overnight May Be 2015's Most Shocking Comedy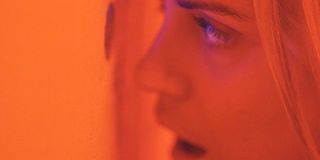 Hollywood is still petrified of male nudity. While it can sometimes appear as though actresses are encouraged to depart with their attire at every possible opportunity to prove just how brave they are, even the hint of a penis is discouraged as lewd and offensive.
The fact that this issue is still prevalent in 2015 is a tad ridiculous, and so it's to The Overnight's eternal credit that it approaches it head on in a bold and open fashion. But to simply focus on this aspect of The Overnight would be doing the film an injustice. Patrick Brice's outrageous comedy is shocking for tackling such a "sensitive" subject in a ballsy (pun definitely intended) manner. But it also unfolds in an unpredictable fashion that manages to be a tad disorientating while also keeping you glued to your seat.
Adam Scott and Taylor Schilling's Alex and Emily have just moved to Los Angeles from Seattle with their infant son RJ because of her work. Unfortunately, the pair are struggling to make any new friends in this strange and sun-drenched land where they're already beginning to feel like outsiders. However, RJ soon comes to the rescue during an afternoon trip to the park where he becomes instant pals with Max.
Max's father, Kurt (Jason Schwartzman), soon probes the couple about their situation, and then organizes a play-date later that evening where the kids can solidify their relationship and he can introduce the pair to his wife, Charlotte (Judith Godreche). But after the kids fall asleep, the couples soon partake in their own play date as Alex and Emily find themselves being shown borderline pornographic videos and paintings before an impromptu skinny-dipping session allows everyone to open up in a whole new light.
Much like last year's Force Majeure or Lynn Shelton's Humpday, The Overnight is a slow-burning comedy that allows its awkward situations and over-the-top characters to evolve into relatable ones. At first, each of them are unlikable in their own unique ways: Kurt is overly pretentious; both Alex and Emily are prudish and desperate; while Charlotte seems vapid. But the brute force of the performances keep you invested, and once The Overnight's characters become scantily clad it ventures into a unique territory that immediately sets it apart from its peers.
In fact, The Overnight truly kicks into gear when it's revealed during their nude swimming activities that Kurt is extremely well endowed, which in turn makes Alex extremely uncomfortable because of his own shortcomings. But the pair's openness soon provokes their wives to reveal their own insecurities that have become a burden in their relationships, and because of this the film ventures into a delightfully surreal coming-of-age tale.
The Overnight's main positive is that it's perfectly cast - Schwartzman in particular hasn't been this funny since Rushmore while Schilling and Scott emanate an everyman warmth that keeps things grounded - and even though it's not quite as funny as it thinks it is, the film subtly builds in a free-spirited fashion that makes it wholly compelling. The actor's exploits, especially when coupled with Brice's subtle direction, allow The Overnight to seamlessly sway from drama to comedy, and it ultimately grows into a shocking and beguiling tale that revels in its unpredictability.
Your Daily Blend of Entertainment News