Alex Cross Will Save The Day On Blu-ray In February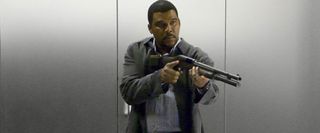 Alex Cross had some problems, most of which did not arise from the source material, a series of books written by James Patterson. It was kind of a snoozefest, but I've heard fans of the book series defend the material. For those men and women, Alex Cross will be available on a slew of different formats including Blu-ray, DVD, digital download, and On Demand on February 5.
If a February release date doesn't say, "We know everyone's already forgotten this," I'm not sure what would. Still, Tyler Perry's lead performance in the flick is a strong one, and I'm really rooting for him to find a role psychologically similar to Alex Cross that will actually stick. Perry's always been good at getting into character, and he deserves more in the acting realm that just being the guy that does Madea.
By now, if you are still reading this, you are probably excited about actually purchasing the flick. Low mojo at the box office usually means a low number of special features, and it also doesn't help that Alex Cross was filmed on a relatively low $35 million budget, and still didn't make its money back. At the end of the day, fans who bring home the set will get audio commentary, deleted scenes, and a featurette that looks into bringing a book to life onscreen. Fingers crossed that latter one will be lengthy. The good news is that both Blu-ray and DVD copies will come with the same bonus features. Regardless, unless you are an avid fan, this may be one to rent.
Alex Cross Blu-ray and DVD Extras
Audio commentary with Rob Cohen
"The Psychologist and the Butcher: Adapting and Filming Alex Cross" featurette
Deleted Scenes
Amazing Race & Top Chef superfan with a pinch of Disney fairy dust thrown in. If you've created a rom-com I've probably watched it.
Your Daily Blend of Entertainment News
Thank you for signing up to CinemaBlend. You will receive a verification email shortly.
There was a problem. Please refresh the page and try again.