Alvin And The Chipmunks 4 Is Opening Against Star Wars, Genius Or Idiotic?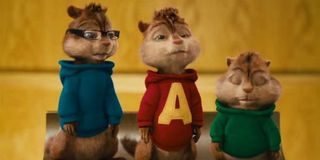 Pretty much everyone was surprised when the Alvin and The Chipmunks franchise wasn't declared dead after the last movie. The reviews were subpar, and the idea of squeaking out more story from the animated super group's adventures seemed highly unlikely. Well, as with most things in Hollywood, money takes precedence over more sensible action, and we'll be treated to a fourth installment, though it will now face off against the stiffest box office cometition imaginable, Star Wars. And the question remains, is this move brilliant or stupid?
Movie Web reports that Alvin and The Chipmunks: The Road Chip will open on December 18 of this year. That date has been moved up from the previously announced December 23 release, and, I know what you're thinking. December 18…That date sounds familiar for some reason. Why is that? Turns out the answer is quite simple: Star Wars: The Force Awakens arrives in theaters on the exact same day.
So, what were the studio heads and production companies behind this decision thinking? Obviously no one knows for sure. But it's an even bet that they wanted to cash in on any non-Star Wars loot on this auspicious opening day. Also, it shows a lot of (possibly insane) faith in their movie. How many films have the cajones to stand up to the most higly anticipated film opening of the year? Actually, it turns out there's just one other film with balls the size of planets in respect to this endeavor. The Amy Poehler, Tina Fey comedy Sisters is also being released on the same day. And I say, you know, why not?
There's a very good chance that Alvin and the Chipmunks, (and Sisters for that matter) could astonish the hell out of everyone who thinks the movie stands no chance. Sure, neither of these films are destined to become one of the largest grossing films in history, but that means less pressure for them to perform out the wazoo come dollar-counting time.
Alvin and the Chipmunks: Chipwrecked, the third film in the series, ended up making almost $343 million at the worldwide box office, and only cost around $75 million to produce. That's a really nice return on an investment that most people in movies would kill to experience. And, of course, the smaller your budget, the better your profit margin when your film turns into an international hit.
Now, there's no doubt in my mind (or the mind of anyone else, really) that the newest Star Wars movies won't make a zillion, trillion, gabillion dollars from the time it opens until it has finally sighed its last breath in theaters. People are probably already lined up at theaters somewhere in the western world just to get their hot little hands on tickets. But, I think it's nice to hope that (much) less anticipated films like Alvin and The Chipmunks will find their place in the world even when opening against such fierce competition. If this movie makes anywhere near as much as the last one, it means we'll all be able to make fun of another squeakquel sometime in a galaxy not so far away at all.
Yennefer's apprentice, Gilmore Girl; will Vulcan nerve pinch pretty much anyone if prompted with cheese...Yes, even Jamie Fraser.
Your Daily Blend of Entertainment News
Thank you for signing up to CinemaBlend. You will receive a verification email shortly.
There was a problem. Please refresh the page and try again.