Angela Bassett Joins Green Lantern Cast As Amanda Waller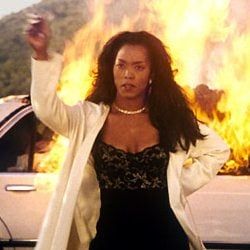 Green Lantern has already started filming down in New Orleans, but it's not too late to add more cast-- remember how many people joined Thor after filming started? Joining Ryan Reynolds, Peter Sarsgaard, Blake Lively and Mark Strong in the promising superhero film will be Angela Bassett, who Variety reports will be playing Dr. Amanda Waller.
If you, like me, are not a comic book nerd, you'll need this information: Waller is a frequent feature of the Green Lantern comics since she first appeared in the 80s, a government agent who at some points was in charge of the Suicide Squad, an group of supervillains working on behalf of the government. She's a fixture in various DC properties, which means Bassett might wind up in all kinds of other superhero projects that aren't even in development yet.
Bassett is the classic example of how Hollywood underuses black actresses, and given how large the Green Lantern cast already is and the fact that the movie is an origin story, it doesn't seem likely her part will be huge. But if sequels are coming, and the filmmakers love Bassett as much as they should, there's a lot of potential for expansion. I
Staff Writer at CinemaBlend
Your Daily Blend of Entertainment News
Thank you for signing up to CinemaBlend. You will receive a verification email shortly.
There was a problem. Please refresh the page and try again.