Angry Birds Movie Shuffles The Deck, Adds Two Animation Veterans As New Directors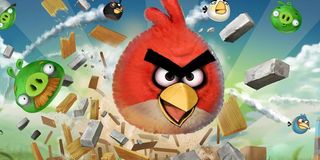 Last night I went to the party that Hasbro hosts every year before the start of New York Comic Con, showing off the toys that will be available for sale in the next few months-- classics like My Little Pony and G.I. Joe, plus funkier stuff like Nerf guns designed for zombie attacks and a whole line of stuff called Kre-O. They also have a lot of toys tied into movies, of course, from the ones that started off as toys (Transformers) to the ones that have become big toy business after (Star Wars).
And they also have Angry Birds, which is probably the first and biggest blockbuster game that started off entirely on phones. There's an entire line of Angry Birds Star Wars toys, where you can see Yoda rendered with a beak; you can also play Angry Birds Star Wars on your phone. Though you might have moved on to Candy Crush or Temple Run, Angry Birds remains big business, and just like Transformers and G.I. Joe before it, it's on its way to the big screen as well. The Angry Birds movie was announced back in 2010, at the peak of the game's popularity, and three years later it's finally got a creative team behind it. Sony has announced that Fergal Reilly and Clay Kaytis will work as co-directors of the film, with both animation veterans stepping into the director's chair for the first time.
You might remember that back in May former Simpsons writer Jon Vitti was supposed to take over the project. He's still credited in the Sony press release as the screenwriter, but as with plenty of other animated projects, there's apparently been a shakeup behind the scenes. Reilly is a recent transplant to Sony from Disney, where he worked on Wreck-It Ralph and the upcoming Frozen, while Kaytis has been in house at Sony since 2003 and worked on both Cloudy with a Chance of Meatballs movies. While it's uncommon in live-action films for the gaffers or costume designers to move up to directing, this is pretty much how the chain of command works in animation, and Reilly and Kaytis have both clearly been working long enough to earn their promotions up to top dogs.
The Angry Birds movie is still set for a July 1, 2016 release. Your kids are probably going to want to see it. But it's still no dumber than the idea of a multi-billion dollar franchise based on Transformers, so we really have no right to complain.
Staff Writer at CinemaBlend
Your Daily Blend of Entertainment News
Thank you for signing up to CinemaBlend. You will receive a verification email shortly.
There was a problem. Please refresh the page and try again.