Not Another Teen Movie: The Cast Then And Now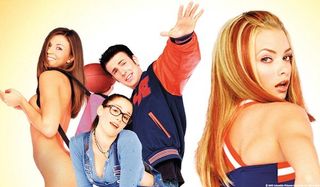 Back in 2001, Not Another Teen Movie was another in a long line of genre spoofs, sending up all of the tropes, clichés, and types of angsty adolescent movies, from the works of John Hughes, like Pretty in Pink, Sixteen Candles, and The Breakfast Club, to more contemporary installments, like Cruel Intentions, 10 Things I Hate About You, and She's All That. At the time, the expansive cast was full of then-unknown actors, but in many cases that anonymity didn't last too much longer, as many alums have gone on to bigger and better things. So let's take a trip down memory lane and see what some of the cast members of what I still maintain is the last great spoof movie has been up to for the last decade and a half.
Chris Evans
Of all the actors who went on to notable careers after Not Another Teen Movie, only one has saved the world multiple times. As Captain America, Chris Evans has foiled numerous evil schemes and become one of the centerpieces of Marvel's expansive, not to mention wildly profitable, Cinematic Universe. Not content to become one of the biggest movie stars in the world, he has appeared in a variety of smaller, more unexpected films, like Bong Joon-ho's Snowpiercer, and even recently made his directorial debut with the romance Before We Go. His eyebrows, however, have never been better than as high school kingpin Jake Wyler.
Chyler Leigh
After her time as Janey Briggs, the poor girl from the wrong side of the tracks with glasses and a ponytail—oh, and she has paint her overalls!—Chyler Leigh has found a steady home on television. After the failed That '80s Show, she found a long term residence on ABC's medical drama Grey's Anatomy. When her hundred-episode-plus run ran out, she fronted the ill-conceived, ill-fated series Taxi Brooklyn (it's about a cop who can't drive and has to take a cab everywhere), though recently she appears to have found another home on Supergirl as the sister of the titular heroine.
Jaime Pressly
Going into Not Another Teen Movie, Jaime Pressly was arguably the most recognizable member of the core cast, and her portrayal of the popular, bitchy, teen queen bee Priscilla perfectly spoofs a role she played straight many times. Pressly has stayed busy over the intervening decade-and-a-half with supporting roles in movies ranging from I Love You, Man to DOA, and with guest spots on a variety of shows, including Melissa & Joey, Raising Hope, and many more. Her most regular, and highest profile, gig was for 96 episodes on My Name Is Earl opposite Jason Lee, though she currently has a recurring part on Mom.
Eric Christian Olsen
I maintain that at least half of the joy of watching Not Another Teen Movie is the eyebrows, and aside from Chris Evans, the best brows in the movie are found attached to Eric Christian Olsen's face. His character, the smarmy, cocky asshole, Austin, puts them to spectacular use throughout. In the intervening years, Olsen had a small-nippled run on Community as the hunky hippie love interest, Vaughn, and showed up in The Thing prequel, among others. But it's on CBS' spin-off of a spin-off, NCIS: Los Angeles, where he's found the most lasting home, playing smart alek detective Marty Deeks for more than 130 episodes and counting.
Mia Kirshner
Mia Kirshner's way-too-old-to-still-be-in-school seductress Catherine Wyler, sister of leading heartthrob Jake, is not so uptight that she'll let a little thing like blood relation get in the way of a lusty good time. Since her days trying to bed her brother at JHHS, Kirshner has gone on to work steadily, with stints on 24, Syfy's Defiance, and others, though her highest profile job was a long run on HBO's The L Word. This year she showed up a handful of times on Netflix's Bloodline, but she's also spent time working on philanthropic efforts and even taught a four-week course at MIT in 2009. Still, to this day, she just wants to find that special someone to take a big dump on her chest.
Sam Huntington
The overly sensitive pseudo-jock, who is also a nerd and an outcast, Sam Huntington's Ox just wants sing improvised doo-wop songs in the shower, treat women as the sensitive creatures that they are, and maybe drop a deuce on Catherine's chest. Now 33, the actor, who first showed up in the likes of Jungle 2 Jungle, has had a long run of guest spot on TV shows like Veronica Mars, Warehouse 13, and others, as well as a variety of movies that skew more towards the horror and science fiction side of things, like Dylan Dog: Dead of Night. From 2011-2014, he portrayed the 20-something werewolf Josh on Syfy's American remake of the supernatural drama Being Human.
Lacey Chabert
In Not Another Teen Movie, Lacey Chabert spoofed the part her Party of Five costar, Jennifer Love Hewitt, played in 1998's Can't Hardly Wait. You know the one, the perfect girl everyone is in love with who causes everything to break down into slow motion the moment she enters a room. After appearing as one of the titular Mean Girls in 2004, these days Chabert can most often be found on the Hallmark Channel in movies that run the gamut from romantic comedy to romantic holiday stories to uplifting religious fare for the whole family, with a romantic twist, including one based on religious dating site Christian Mingle.
Samm Levine
Though he first caught our attention as one of the cast members of the short-lived, but deeply loved Freaks and Geeks, Samm Levine started doing standup at Bar Mitzvahs at the age of 12. He played Bruce, the white kid who appropriates Asian culture to try and be cool and find a place to belong, and lose his virginity, in Not Another Teen Movie. Though he hasn't become what you would call a huge star, he has stayed busy and become a widely familiar face. Over the years he's appeared in an astonishing array of projects, from Quentin Tarantino's Inglorious Basterds to ABC's Lost and more, raging from serious drama to comedy. He's also a regular producer and participant on Kevin Pollack's Chat Show and earlier this year once again provided the voice of Arty on Netflix's Wet Hot American Summer: First Day of Camp.
Josh Radnor
Little more than a member of the chorus in Not Another Teen Movie, playing the tour guide to new kids at John Hughes High School, Josh Radnor found a home for nine seasons on CBS' sitcom How I Met Your Mother. After a near decade search for love as architect Ted Mosby, Radnor has found some success following a path behind the camera. Over the last few years, even while working on Mother, Radnor wrote and directed the well-received comedic indie dramas Happythankyoumoreplease in 2010 and Liberal Arts in 2012.
Sean Patrick Thomas
Appearing in teen movies like Cruel Intentions, Can't Hardly Wait, and Save the Last Dance, often as the token minority, it only made sense for Sean Patrick Thomas to show up in Not Another Teen Movie and send up such casting. In the years since, he has worked steadily, appearing in TV shows and movies like Darren Aronofsky's The Fountain and the Barbershop films—he'll also reprise his role as Jimmy in the upcoming Barbershop 3: The Next Cut in April of next year—though he has never truly broken out into the mainstream.
Joanna Garcia
In a movie full of memorable moments and characters, it's hard to standout, but Joanna Garcia's Sandy Sue certainly does shine. You may remember her as the cheerleader with Tourette's Syndrome prone to inappropriate outbursts, like, "Grandpa stuck a finger in my ass! Cum face," at inopportune moments. Garcia has gone on to have star in Reba McEntire's sitcom Reba and have a recurring role on Gossip Girl, as well as bigger roles in tons of shows that never really go anywhere, like Animal Practice and The Astronaut Wives Club. Lately she's had stints on the likes of Once Upon a Time and The Mindy Project, as well as working with a number of charities ranging from literacy to empowering young women.
Ron Lester
It's been almost 15 years since Not Another Teen Movie, and over that time, many members of the cast have changed in appearance, but none is quite as unrecognizable as Ron Lester. In the late 1990s, if your movie or TV show needed a big kid to either be mean and a jerk or get made fun of for his weight, Lester was the go-to guy, and he played essentially the same role in Teen Movie as he did two years earlier in Varsity Blues, the big, dumb football player. In 2001, however, he underwent duodenal switch surgery to combat his weight—a procedure he actually flat-lined during—and lost 348 pounds. Though a now he doesn't do much acting these days, he still teaches the craft in the Dallas-Forth Worth area and is active in charities that range from fighting cancer and supporting U.S. troops.
Paul Gleason
Of all of the many nods to teen movies from an earlier time in Not Another Teen Movie, few were as much fun as Paul Gleason's cameo. Starting his career on the Ozzie and Harriet show, he is most known to a certain generation as the hard-assed principal in John Hughes' The Breakfast Club, a role he spoofed in the 2001. Never a star, Gleason was a recognizable character actor for decades in movies like Die Hard and countless shows in the 1980s and '90s. Unfortunately, Gleason passed away in 2006 after a battle with Mesothelioma, a lung cancer associated with asbestos that he likely contracted working on construction sites as a teenager.
Mr. T
It wouldn't be another teen movie if the protagonist didn't have a wise old janitor to show up at a key moment and dispense some wisdom, and Jake Wyler certainly has one of the best, as his wise old janitor is none other that Mr. T. Sure, maybe he's a creep who watches the kids shower, but he's also the star of The A-Team, played a villain in Rocky III, and released a rap album about respecting your mother. A deeply religious man, Mr. T stopped wearing his trademark gold chains after helping with Hurricane Katrina relief; in 2006 he starred in the TV Land reality show, I Pity the Fool; lent his voice to Cloudy With a Chance of Meatballs in 2009; and hosted a BBC reality show, World's Craziest Fools from 2011-2013. And then there's his DIY home improvement show, the brilliantly named, I Pity the Tool.
Molly Ringwald
There are few icons of 1980s movies on the same level as Molly Ringwald, which is why the star of Pretty in Pink, Sixteen Candles, and The Breakfast Club absolutely had to be in Not Another Teen Movie, where she played the wise, sarcastic flight attendant trying to stop Janey Briggs from making a string of cliché mistakes. Though she's never reached the level of fame she had earlier in her career, Ringwald has continued to act in movies and on Broadway, though primarily in television, with a notable role on The Secret Life of the American Teenager. Earlier this year she appeared in Jem and the Holograms, and in 2013 she released her first jazz record called Except Sometimes.
Randy Quaid
Sure, cast members may have gone on to become classic comic book heroes, TV cops, and celebrated filmmakers, but few have had as eventful a post-Not Another Teen Movie life as Randy Quaid. The star of classic comedies like Christmas Vacation and Kingpin, he went on to appear in notable films like Brokeback Mountain (which he later sued), and less notable entries, like Category Seven: End of the World, a Syfy movie about tornadoes. His personal life, however, has gone completely off the rails. He and his wife have been arrested for burglary, conspiracy, and squatting; they have fled the country, hiding out in Canada, where they were also arrested; and Quaid has been outspoken about Hollywood "star whacking," where persons unknown are responsible for the mysterious deaths of numerous industry stars. He continues to be a staple of the gossip television circuit, and let's hope he gets the help he appears to need, because it's a damn travesty that Cousin Eddie didn't show up in Vacation.
Your Daily Blend of Entertainment News
Your Daily Blend of Entertainment News
Thank you for signing up to CinemaBlend. You will receive a verification email shortly.
There was a problem. Please refresh the page and try again.