Mean Girls Has Inspired An Unusual Line of Snack Foods And Drinks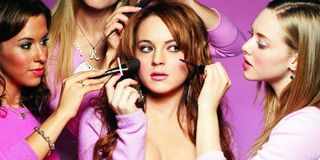 Of all the brands crafting Mean Girls-themed products, Dylan's Candy Bar is one of the more unexpected choices. At the very least, we thought it would be something like Nature Valley protein bars rebranding themselves as Kalteen bars, or even perhaps a "You go, Glen Coco" hot cocoa from Swiss Miss. Never the less, here we are and Dylan's Candy Bar is celebrating National Mean Girls Day with a special line of sweets.
Remember how Cady will always remember October 3 as the day Aaron Samuels asked her what date it was? Dylan's remembers. Beginning tomorrow, September 1, and leading up all the way to the holiday, you will be able to buy Mean Girls-themed items from the candy brand. Among those that will be offered is the Kalteen bar ($5.25 (opens in new tab)). The wrapper around this crispy peanut butter bar reads, "a weird nutrition bar" that "burns carbs…it just burns up all your carbs." Hopefully, this one won't make us inflate like a Macy's Day balloon, but if you eat enough of them, well…
Another hot ticket item is a box of "Is butter a carb?" popcorn-flavored jelly beans ($6.00 (opens in new tab)). In the film, Regina George is so obsessed with her all-carb diet she's desperate for more…even though sweatpants are all that fit her right now.
There are smaller, non-edible items — like the "Her hair is so big because it's full of secrets" hair ties ($12.00 (opens in new tab)) and the "Get in, loser, we're going shopping" tote bag ($20.00 (opens in new tab)) — and if you're a fan of Regina's mom, then you're going to want your own "I'm not a regular mom, I'm a cool" plastic wine tumbler ($23.00 (opens in new tab)). This infamous Mean Girls quote is plastered around the item and it's filled with pineapple gummy bears. Don't worry, there's no alcohol in them…but if you want some, Dylan's would rather you do it in the house. Then again, you can always fill it with "You go, Glen Coco" pink hot chocolate ($12.50 (opens in new tab)).
On October 3, Dylan's Candy Bar locations will feature Mean Girls-themed events with trivia and other similar activities. So keep a look out for more information on the Dylan's website.
Mean Girls starred Lindsay Lohan (Cady Heron), Rachel McAdams (Regina George), Amanda Seyfried (Karen Smith), Lacey Chabert (Gretchen Wieners), Lizzy Caplan (Janis Ian), Daniel Franzese (Damian), Tina Fey (Ms. Norbury), and Jonathan Bennett (Aaron Samuels). After debuting April 30, 2004, the film became a sensation and still has a diehard cult following.
Your Daily Blend of Entertainment News
Thank you for signing up to CinemaBlend. You will receive a verification email shortly.
There was a problem. Please refresh the page and try again.