Avengers 2 May Contain A Big Hero 6 Easter Egg, Get The Details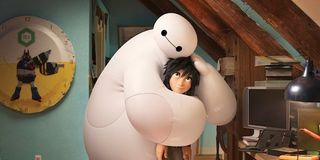 Since it's part of the Marvel Cinematic Universe, Avengers: Age of Ultron was, of course, going to have references and Easter Eggs to other Marvel movies. However, what many of us likely didn't notice while watching the film in theaters earlier this year was an Easter Egg referencing another Marvel adventure that came out in 2014, except this film didn't take place in the MCU. An eagle-eyed viewer online appears to have spotted a reference to Big Hero 6, specifically one of its key characters…and no, I don't mean Baymax.
Reddit user Kalean noticed that when Tony Stark is selecting a new A.I. for his armor in Avengers: Age of Ultron, one of his options appears to be labeled "Tadashi," which would be a reference to Big Hero 6 protagonist Hiro Hamada's older brother Tadashi. In the animated film, it was Tadashi who not only created Baymax, but also inspired Hiro to seek his full potential and start developing robots at the San Fransokyo Institute of Technology alongside other brilliant students. It's hard to spot if you're watching the film for the first time, but aside from that questionable 'H', it does look like "Tadashi" is spelled out on the chip.
Avengers: Age of Ultron was filming around the time that the first trailers for Big Hero 6 were coming out, so it's certainly conceivable that they heard about the character and wanted to include a fun reference. However, just to be safe, take this particular Easter Egg with a grain of salt. For all we know, there's another Tadashi out in the world that is someone special to Tony, or a member of the 2015 blockbuster's crew.
Viewers will remember that after Ultron gained sentience in the beginning of Avengers: Age of Ultron, he killed Tony Stark's trusted A.I. J.A.R.V.I.S., or so he thought. Fortunately for Earth's Mightiest Heroes, J.A.R.V.I.S. was able to hide himself within the Internet, and after surfacing later in the film, he was uploaded into the body Ultron had created for himself. After throwing in some Asgardian-controlled lightning and an Infinity Stone, J.A.R.V.I.S. was transformed into The Vision. As for Tony Stark, he selected the program F.R.I.D.A.Y. (voiced by Kerry Condon) as his new A.I. shortly before the Battle of Sokovia. Fun fact: one of the other A.I. programs Tony kept on hand was labeled Jocasta, who, in the comics, is the robotic wife Ultron constructs for himself, though, unlike her husband/creator, she becomes a force for good.
Big Hero 6 may not officially be part of the MCU, but it is based on a Marvel comic, it was a critical and commercial success at the box office last year, and there are reportedly plans to make a sequel. As for Avengers: Age of Ultron, it is currently available for digital purchase and will be out on Blu-ray and DVD on October 2.
Connoisseur of Marvel, DC, Star Wars, John Wick, MonsterVerse and Doctor Who lore. He's aware he looks like Harry Potter and Clark Kent.
Your Daily Blend of Entertainment News
Thank you for signing up to CinemaBlend. You will receive a verification email shortly.
There was a problem. Please refresh the page and try again.