The Avengers 2 Release Date Confirmed For May 2015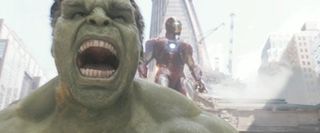 We've speculated pretty much from the moment that a sequel was confirmed that The Avengers 2 would probably arrive in theaters on a similar date as the original, and likely sometime in 2015, after the sequels for Captain America, Thor and Iron Man presumably set the stage for the action to come. Now Disney has finally confirmed the release date that those of us with basic pattern recognition skills had figured: The Avengers 2 will arrive in theaters on May 1, 2015.
If you haven't noticed, early May is a terrific time for Marvel. Iron Man opened at the beginning of May in 2008, a surprisingly strong start to both summer movie season and an entire new franchise. Iron Man 2 had an early May bow two years later, and the year after that Thor took the summer-opening spot, with Captain America coming later in July to really finish things off. Then this year, The Avengers opened on May 4 and proceeded to completely crush all box office records, making $200 million in a single weekend and forcing rival summer blockbusters to simply weep in envy.
Now Marvel clearly plans to repeat the feat in three years, with three movies to build up to it and many years of fevered anticipation sure to follow. Though we know very little about Avengers 2 beyond the fact that Joss Whedon and the main cast will be returning, we've gotten in on that speculation game a little ourselves; back in May we listed some heroes we wanted to see in on the action next time, and when Whedon was confirmed to return as director, we put together an exhaustive rundown of everything we now about the movie so far. Click over there to join the speculation and start the countdown to 2015!
Staff Writer at CinemaBlend
Your Daily Blend of Entertainment News
Thank you for signing up to CinemaBlend. You will receive a verification email shortly.
There was a problem. Please refresh the page and try again.