The Barbie Movie Is Doing Something Very Different, Get The Details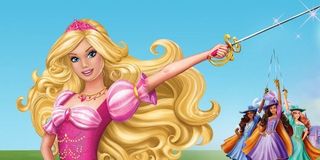 Beloved toys are a huge source of inspiration for big blockbuster movies. Shocking, I know. The shape shifting Transformers have become a massive, multi-billion-dollar franchise; G.I. Joe is going to unite with a number of other toy lines, including M.A.S.K., Micronauts, and Rom: SpaceKnight, for a shared universe; and there's even a Barbie movie on the way. The cinematic adaptation of Mattel's iconic doll is doing something a bit different on the way to the big screen, however, hiring multiple writers to hand in multiple scripts.
Produced by Sony, Barbie has a penciled in release date set for June 2017, and according to The Hollywood Reporter, the studio has retained the services of three different writers in order to speed the process along. Bert Royal, Lindsay Beer, and Hilary Winston have all been hired to pen their own version of the script for the live-action film.
Jenny Bicks (Rio 2) turned in the original draft, but earlier this year, celebrated screenwriter Diablo Cody (Juno, Young Adult) was hired to tackle the subject matter, presumably with the idea of giving the film some of her trademark bite and edge. The studio, however, was apparently none too impressed with what she turned in, and decided to go this route instead. What's unclear right now is if each of the new writers will follow the same general story line or if they have more free rein as far plot, subject, and the rest.
Bert Royal is best known for writing the 2010, Emma Stone-starring comedy Easy A and producing ABC Family's Recovery Road. Lindsay Beer recently worked on another toy-based property, serving as part of the expansive writer's room Transformers put together in order to find new and innovative ways to expand the franchise (you have to assume there will be way fewer robots and explosions in her Barbie script, though how rad would that be?). Hilary Winston's writing background is mostly in television, having worked on the likes of My Name is Earl, Community, and Dr. Ken, among many others.
Barbie isn't the only big project to hire multiple writers to knock out their own distinct scripts. The upcoming DC Extended Universe version of Aquaman also reportedly hired two different writers to write two different screenplays in the hopes of winding up with the strongest version possible.
This is not the only Barbie-centric film in the works. Reese Witherspoon and her Pacific Standard production company are said to be developing one of their own, though this that project will tell the story of how the legendary doll came to be and follows the life of Barbie creator Ruth Handler rather than the exploits of her invention.
As it stands, Barbie is scheduled for release on June 2, 2017, and though we'll have to see how things develop, it certainly looks like Sony intends to make that date.
Your Daily Blend of Entertainment News