Batman V Superman Could Split Into Two Movies And Release Much Sooner Than We Thought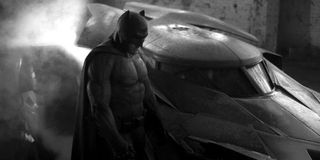 What could be one of the greatest rumors to hit the internet, if it serves to be true, has just surfaced, claiming that the long-awaited Batman V Superman could be in split into two movies, with the first coming much sooner than we expected. How early? THIS YEAR, early.
This could be completely false, total BS, but the tipster who claims to have the info has done a fairly convincing job at proving the rumor. Latino Review found a photo posted by "a person claiming to have an iPhone video of the teaser for Batman V Superman". The photo is supposedly a screenshot last title relaying the following information:
If this information is true, it claims that not only is Batman V Superman coming out much earlier than expected, but it is also being split into two films— Enter the Knight coming out this year, and Dawn of Justice at its previously announced date. And while I can't fully believe a secret this big has gone without being leaked for the number of months we've been anxiously awaiting more and more information on the movie, it is not totally unbelieveable. There is certainly enough material to make two films out of the subject, especially with the introduction of a new Batman in the mix.
Though it could easily just be a very long film, there's already been a number of elements circulating that could potentially suggest enough material. We've previously discussed that the plot is most likely following a similar storyline to Frank Miller's comic book series The Dark Knight Returns, which is a terrific starting point. The film is said to involve Superman facing off against Batman, and then the two having to team up against a greater threat. But, from what we've heard of the film so far, there may be more of a focus on Batman. There's fan footage proof that we will once again watch as Bruce Wayne's parents are killed. Also, recent casting calls have asked for younger versions of Bruce Wayne, proving we will get a glimpse into his past.
Ben Affleck is new to the caped crusader role, so there needs to be some introduction to his character since this is an entirely new adaptation. That requires extra screen time for Affleck, and along with these other snippets of proof we've gotten in the past months, it would make total sense that the first movie of the Batman V Superman double feature would be entitled, Enter the Knight. This segment could focus on Batman's origin story, especially since we already have a lead up to where Superman stands from Man of Steel.
What it comes down to more than anything though, is that I really want this rumor to be true. The wait for Batman V Superman has been killer. We won't know the validity of this rumor until the first teaser trailer for the film comes out, which now looks like it will be along with the release of Jupiter Ascending hitting theaters February 6. Till then let's all cross our fingers in unison and hope that DC is going to surprise us with the best gift they could give, an earlier release date.
Your Daily Blend of Entertainment News
Thank you for signing up to CinemaBlend. You will receive a verification email shortly.
There was a problem. Please refresh the page and try again.