Batman V Superman Opening Weekend Box Office Predictions Keep Getting Bigger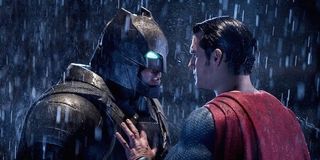 It felt like it's taken forever to get here, but Batman v Superman: Dawn of Justice is finally in theaters now. Though the critical reception has been mixed, at best, the superhero throwdown has been killing it when it comes to ticket sales. In fact, thanks to one of the ten biggest Thursday night showings ever, revised opening weekend box office predictions keep getting bigger and bigger.
Previous estimates had Batman v Superman: Dawn of Justice hitting numbers as high as $160 million during its debut weekend. Thanks to the $27.7 million it earned at the domestic box office Thursday night, however, Variety now predicts that it could hit $180 million over the course of its opening theatrical run. Showing on more than 4200 screens, Dawn of Justice is poised to knock off The Hunger Games for the biggest debut in the month of March, a mark that has stood since 2012.
While that is a big number indeed, it's not entirely outside the realm of possibility. Batman v Superman: Dawn of Justice's Thursday night take of $27.7 million was just enough to edge out the $27.6 million of Avengers: Age of Ultron last year. That movie went on to rake in $190 million during its opening weekend. Sure, that movie had the benefit of a later, more traditional summer release date, but Dawn of Justice already broke the Fandango record for most advance tickets sold for a superhero movie, so we wouldn't be surprised to see it reach such a high mark.
The lackluster critical response to Batman v Superman: Dawn of Justice doesn't appear to have done much to dissuade audience on this Easter weekend. Currently, the film has a 30% rating on review aggregator Rotten Tomatoes, though that doesn't always mean much as far as ticket sales go—just look at the Transformers movies for an example of critically derided, financially successful films.
Batman v Superman: Dawn of Justice is receiving an near simultaneous global release, debuting in 60 regions, including China, the second biggest global market, which has become a huge piece of the financial puzzle for Hollywood studios. This opening weekend, which will likely top $300 million worldwide is good news for Warner Bros. as the film came with a hefty $250 million price tag, plus an expensive marketing campaign.
With the two title characters, as well as Wonder Woman and a number of other legendary characters from the pages of DC Comics, Batman v Superman: Dawn of Justice really sets the stage for the expansive DC Extended Universe. Wonder Woman will get her own solo adventure next year, the whole gang will come together in two scheduled Justice League movies, and Aquaman, The Flash, and others will also get their own big screen adventures over the next few years.
Your Daily Blend of Entertainment News