Bill And Ted 3 May Happen, This Is What It Would Be About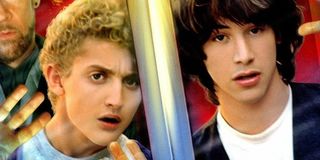 Alex Winter, who infamously portrayed Bill S. Preston Esq. in both Bill & Ted's Excellent Adventure and Bill & Ted's Bogus Journey, has been discussing a potential third instalment to the much-loved franchise that has been 23 years in the making.
Winter, who has carved out a pretty impressive career as a writer/director since Bill & Ted's time-traveling escapades, revealed a whole host of plans for the potential film, which has been in development for the last few years. Winter told Yahoo Movies UK:
However, Winter wasn't done talking about the ideas behind the film, and in fact he gave quite a bit away regarding what we can expect from the comedy.
"But it's a Bill & Ted movie, that's what it is. It's for the fans of Bill & Ted. It fits very neatly in the [series]. It's not going to feel like a reboot. The conceit is really funny: What if you're middle-aged, haven't really grown up, and you're supposed to have saved the world and maybe, just maybe, you kinda haven't?"
Most intriguingly of all, Winter explained that the film might visit several different time-lines, which means that there could be several variations of the two characters to explore. "There's many versions of ourselves in this movie," he proclaimed. "[It's] answering the question: 'What happened to these guys?' They're supposed to have done all this stuff, they weren't the brightest bulbs on the tree, what happened 20 years later? To answer that question in a comedic way felt rich with possibility."
Unfortunately though, Winter prepared fans that are expecting the film to be released in the near future to fear the worst, and he blamed this delay on the fact that news of its development got out too early. "It just takes a long time to put a movie together. Now we're having to build this thing in public, which is fine. I just feel bad [the fans] have to get dragged through this long, boring, protracted process."
News regarding a third film first came around in 2010, when Keanu Reeves admitted that a script was in development. In 2011, it was confirmed that the script was finished, while in August 2012, director Dean Parisot, who oversaw production on Red 2 and Galaxy Quest, became attached to the project. But Winter has now explained that the script keeps on getting re-drafted, and because "the comedy is so specific" the creative team involved are still being "really very measured about [its progress]."
Alex Winter's admission that he is still good friends with Keanu Reeves, who played the Ted to his Bill in the films, as well as Chris Matheson and Ed Solomon, who wrote the original 1989 sci-fi adventure. But he also conceded that more often than not, they end up asking each other, "Is there a point? Is there a way in?" We'll have to see what happens with Bill & Ted 3. Despite his openness, Winter was still very aloof about providing a possible release date, and his comments made it seem as though no one is completely happy with the latest draft of the script. Whether it will ever get made is still very much up in the air. It will be totally bodacious if it does.
Your Daily Blend of Entertainment News
Thank you for signing up to CinemaBlend. You will receive a verification email shortly.
There was a problem. Please refresh the page and try again.