Bruce Greenwood And Robert Patrick Join Endless Love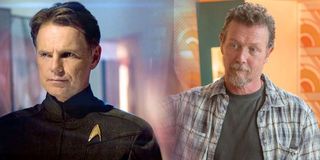 Universal's remake of the 1981 romance Endless Love is coming together. Last summer, the in-development project with a script by Gossip Girl scribe Josh Safran kicked into gear as Country Strong writer-director Shana Feste was hired for a rewrite and helming duties. Then, after a bunch of aspiring ingénues and inge-dudes were screen tested, Gabriella Wilde and Alex Pettyfer won the coveted leads of Jade and David. Just last week The Hunger Games' Dayo Okeniyi signed on to play David's playful best bud. And now The Wrap reports Bruce Greenwood and Robert Patrick are the latest to join the growing cast.
Based on the film inspired by the novel by Scott Spencer, Endless Love unfolds the tumultuous romance of teenagers Jade Butterfield and David Axelrod. In the original movie, her parents were bohemians, his wealthy political activists. But one of the first signs of distinction we're seeing with the remake is revealed with Greenwood and Patrick's casting.
Instead of a modern bohemian, Greenwood will play Jade's wealthy white-collar father, who doesn't approve of her forming a relationship with a lowly blue-collar boy like David. On the other hand Patrick will play David's dad, a mechanic who runs the auto body shop where the romantic lead works. So, the lovers still come from different worlds, but the sides of the tracks have essentially switched.
There's still no word on when Endless Love is looking to roll into production, much less when it might hit theaters. But in the meantime, you can look for Greenwood in Star Trek Into Darkness, where he reprises his role as Christopher Pike, not the YA horror novel author but the noble Captain who took a chance on an impulsive James T. Kirk. Patrick, who is still best known for Terminator 2: Judgment Day, most recently appeared in the road trip comedy Identity Thief as a disturbing bounty hunter known only as Skiptracer.
Your Daily Blend of Entertainment News
Staff writer at CinemaBlend.
Your Daily Blend of Entertainment News
Thank you for signing up to CinemaBlend. You will receive a verification email shortly.
There was a problem. Please refresh the page and try again.