CB Predicts: The 10 Highest Grossing Movies Of 2015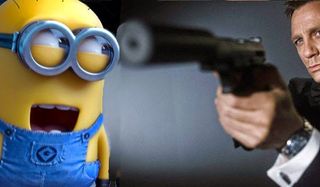 Yeah, 2014 sucked at the movie box office. Let's just admit it. Numbers were down. It was shit. Fortunately, 2015 looks like one of the most promising years in decades. In fact, if people don't show up to the theater this year, there's a serious problem because, to paraphrase Stefan, these next 12 months have EVERYTHING.
Raptors, Terminators, Paul Walker, Iron Man, Minions, Kevin Hart, Chris Pratt on a motorcycle, Cinderella, Tom Cruise's most popular franchise, The Rock, a Disney film based off a theme park location, Captain America, archery, CGI that looks like Paul Walker, a talking Teddy Bear that likes strippers, James Bond, more Kevin Hart, boy Thor, that Fantastic Four movie no one asked for, earthquakes, Star Wars, Philip Seymour Hoffman's ghost, Jennifer Lawrence Oscar Bait, the Incredible Hulk and that thing where we almost see Jamie Dornan's dick a bunch of times.
A lot of these movies are going to be incredibly popular, but they can't all be runaway hits. So, I'm going to put my critical reasoning hat on and make some bold predictions. I'm going to forecast the 10 highest grossing movies of 2015. So, get on your judgmental faces and join me. These will be the 10 most popular 2015 movies at the WORLDWIDE BOX OFFICE.
10. Ant-Man
Release Date: July 17th, 2015
Worldwide Box Office Guess: $775,000,000
Reason: After the raging success of Marvel's Guardians Of The Galaxy, it's tempting to say the superhero studio has the power to make a fortune on damn near anything. Hell, Saturday Night Live even wrote an entire sketch about it. It's important to keep in mind, however, that Guardians had tremendous reviews and tremendous word of mouth. Without those, it wouldn't have done anywhere near the business it did, and with Ant-Man victimized by tons of behind the scenes drama, it might be a stretch to expect the same type of finished product.
9. The Good Dinosaur
Release Date: November 25th, 2015
Worldwide Box Office Guess: $800,000,000
Reason: Another film that has been beset by tons of behind the scenes problems, Pixar fired the director of The Good Dinosaur, pushed back the release date and completely reworked the project, all of which sounds pretty ominous. None of it changes the fact, however, that kids LOVE dinosaurs, and adults LOVE taking their kids to see Pixar movies. It's going to need at least halfway decent reviews to get to $800,000,000, but despite some recent issues, I'm still always willing to bet on Pixar.
8. Inside Out
Release Date: June 19th, 2015
Worldwide Box Office Guess: $825,000,000
Reason: Pete Doctor is directing Inside Out. He's the dude who directed Monsters, Inc and Up. Do I really need to say anything else? Fine, I will. Early buzz from those who have seen parts of the film has been glowing, and the first trailers have gone over very well with fans. Add in a female protagonist that will appeal to little girls and a voice cast that should bring in parents and Disney should make a ton of trips to the bank depositing all the Inside Out ticket receipts.
7. Hunger Games: Mockingjay Part II
Release Date: November 20th, 2015
Worldwide Box Office Guess: $850,000,000
Reason: I'm not sure if interest in the franchise is waning slightly or if people were annoyed about the Mockingjay being split into two parts. Either way, the numbers for Part 1 weren't quite as robust as one would hope. Some more money will trickle in, of course, but the final figure won't come close to the cool billion some were hoping for. Still, it's likely the conclusion will tick up a bit, seeing as how people like watching the ending more than the middle of a larger story. Besides, who wouldn't pay to see Philip Seymour Hoffman crush it one more time?
6. Minions
Release Date: July 10th, 2015
Worldwide Box Office Guess: $875,000,000
Reason: Kids love the Minions from Despicable Me. In fact, they're among the most popular animated characters created in the past few decades. As such, children under the age of 12 are going to flock to see this movie on opening weekend. With any kind of marketing campaign, it is going to destroy the competition at the beginning. In order to get to a billion dollars or higher, however, a flick needs really good word of mouth, and it remains to be seen whether the Minions can actually carry their own movie. They're really funny in a supporting capacity, but on their own, the schtick might get really old. We'll just have to see, it'll likely be the difference between a top five finish for the year and a disappointing figure in the 11 to 15 range.
5. Furious 7
Release Date: April 3, 2015
Worldwide Box Office Guess: $950,000,000
Reason: This would mark a pretty big increase from the box office total of Fast & Furious 6, but it's hard to imagine every single fan of the series not showing up for Paul Walker's last ride. The actor meant so much to a large group of people, and this film will be the perfect way to honor him. Besides, every single indicator points to this movie being great in that very specific, over-the-top Fast & Furious-type way. The trailer went over very well, and Universal will definitely shell out to give the film the marketing campaign it deserves. Expect some huge box office totals and for it to eventually push up near a billion bucks.
4. Spectre
Release Date: November 6, 2015
Worldwide Box Office Guess: $1,000,000,000
Reason: The James Bond movies always make money. They don't come around very often, and the basic concept of a dashing spy is something an overwhelming majority of people can get behind. Skyfall was released back in 2012 and did 1.1 billion in business, but in all fairness, it also had many critics and fans claiming it was one of the best Bond films ever made. With director Sam Mendes in place and Christoph Waltz on board, there is every reason to be hopeful, but matching the last flick would be a very tall order. I predict it comes close but doesn't quite get there, leaving enough room for a giant profit and happy fans but not the unyielding acclaim and insane checks Skyfall brought in.
3. Jurassic World
Release Date: June 12, 2015
Worldwide Box Office Guess: $1,250,000,000
Reason: Chris Pratt has already proven he can open a mega-hit. There are few actors with better buzz than him right now. Throw in raptors and a very well received trailer, and Jurassic World has all the makings to be one of 2015's biggest movies. Plus, unlike some of the other movies on this list, JW is practically the definition of an event film. This is something you have to see on the big screen in all its glory. Dinosaurs eating people just isn't the same at home, which is why people showed up for the Jurassic Park re-release. Few things improve anyone's mood faster than watching a smarmy lawyer get eaten on the toilet.
2. Star Wars 7: The Force Awakens
Release Date: December 18th, 2015
Worldwide Box Office Guess: $1,300,000,000
Reason: Given how much money Disney has invested in Star Wars, both for this movie and for ones already in pre-production, it's hard to imagine they would let anything less than a B+ effort get released. There's just too much at stake. Disney clearly wants to add Star Wars theme park rides. They want to churn out brand new merchandise. They want to make a fortune, but in order to do that, they need a good movie. So, no expense is being spared, and with JJ Abrams at the helm, it's hard to imagine the new flick won't at least be good. Given it's been decades since the last good Star Wars film and everyone seems primed to give the new one a chance, the opening weekend numbers will probably be the biggest of the year too. Expect a huge number when all is said and done but not the biggest number of the year.
1. Avengers 2: Age Of Ultron
Release Date: May 1st, 2015
Worldwide Box Office Guess: $1,700,000,000
Reason: The last Avengers movie made more than $1.5 billion, and in all my years of writing about movies, I've never once seen people go as crazy about a trailer as they did for Avengers 2. It was madness. Not only were people obsessed with the footage, they couldn't get over the villain and his creepy Pinocchio speech. It was a perfect storm, and that momentum is going to carry through to insane box office figures, especially if the reviews are as incredible as people think they'll be. I bet they are, and I bet, atop superfans seeing it three or four times, this film goes down as one of the highest grossing in the history of Hollywood, capping off the single biggest year the movie industry has ever produced!
Enthusiastic about Clue, case-of-the-week mysteries, the NBA and cookies at Disney World. Less enthusiastic about the pricing structure of cable, loud noises and Tuesdays.
Your Daily Blend of Entertainment News
Thank you for signing up to CinemaBlend. You will receive a verification email shortly.
There was a problem. Please refresh the page and try again.