Captain America: What Will Be Different About Falcon In Civil War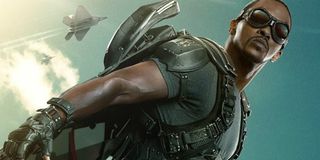 A ton of changes are coming to the Marvel Cinematic Universe when Captain America: Civil War hits theaters in 2016. Not only will friends and teammates Steve Rogers and Tony Stark be fighting each other over a superhero registration policy, but Anthony Mackie will return as the Falcon with a few new developments for his character as well.
When last we saw Falcon at the end of Captain America: The Winter Soldier, his suit had been totally wrecked after The Winter Soldier clipped his wings - but he was still determined to help Cap in tracking down his old war buddy. One thing is for sure about his return in Captain America: Civil War, though: he's gonna have a new look. Mackie recently spoke to Hollywood Chicago about the matter on the red carpet for the Chicago premiere of his new movie Black or White, and while he wouldn't go into deep detail, he promised,
Honestly, this was pretty much expected. It seems like everyone from Cap to Black Widow to Iron Man gets a new suit for no apparent reason in every new installment — but it's exciting nonetheless. Sam Wilson got his alias in the films from the codename given to his tactical flight suit, which toned down the coloring from the comics in favor of something more appropriate of a modern military man. Hopefully what remains of S.H.I.E.L.D., or perhaps Bruce Banner or Tony Stark can give him some kick-ass upgrades that perhaps make him look like he was ripped straight out of the pages of Marvel Comics.
In addition to Falcon, it's also pretty easy to believe that both Captain America and Iron Man will be getting new costumes as well. We already know that they are getting personal upgrades in The Avengers: Age of Ultron, as small Avengers "A's" have been branded on their "uniforms." With the red-white-and-blue Avenger coming to blows with Stark, you can bet they'll want nothing that even remotely suggests unification on their persons when Civil War begins.
What kind of changes would you like to see get applied to Anthony Mackie's Falcon costume when Captain America: Civil War arrives in theaters on May 6, 2016? Tell us your thoughts in the comments below.
Your Daily Blend of Entertainment News
Thank you for signing up to CinemaBlend. You will receive a verification email shortly.
There was a problem. Please refresh the page and try again.