Channing Tatum Going Dramatic, Playing A Junkie In What's Left Of Us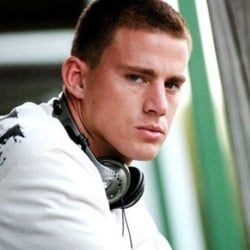 I've long contended that Channing Tatum could be a good actor if someone just gave him the chance to play something other than the hunky nice Southern guy-- he showed off some real skill in Kimberly Peirce's Stop Loss, and the recent news that he'd be playing a tattooed and pierced piece on the side seemed like another step in the right direction. But Tatum isn't just going to gradually work his way into a dramatic career, oh no-- he's going whole hog right now with the ultimate "actor" role, the junkie.
Over at Cannes Deadline Hollywood reports that Tatum is attached to star in What's Left Of Us, an indie adaptation of Richard Farrell's memoir that the author will adapt for the screen as well. Financier Berkeley Square Films is selling the project at Cannes, and with Tatum attached, it seems pretty likely they'll find some interest.
The story of a dopey hunk striving for legitimacy by playing a junkie is almost comically typical, like a plot straight out of Tropic Thunder, but I really think Tatum has the commitment and the chops to pull it off. The only question is whether or not the movie, which will inevitably be brutal and challenging, will also be worth watching. Addiction and recovery stories are well-trod movie material; what is Farrell planning to offer that's new? A revelatory performance by Tatum could be reason enough for the movie to exist, a la Charlize Theron in Monster, but it wouldn't hurt for Farrell to give a fresh spin on the old genre anyway.
Your Daily Blend of Entertainment News
Staff Writer at CinemaBlend