Christian Bale, Casey Affleck And Zoe Saldana Confirmed For Out Of The Furnace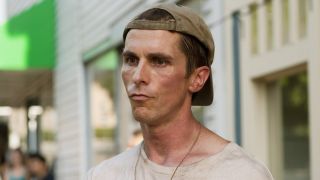 (Image credit: Paramount Pictures)
Finally reprieved from its grueling sentence in developmental hell, the gritty drama Out of the Furnace has at last secured its cast. Relativity Media is proud to announce that Christian Bale, who has been attached to the project since last August, has finally signed on the dotted line, along with Casey Affleck, Zoe Saldana, and Sam Shepard, to front the film that will serve as writer-director Scott Cooper's follow-up to his Oscar-winning directorial debut, Crazy Heart.
Originally titled The Low Dweller and penned by insurance salesman-turned-screenwriter Brad Ingelsby, Out of the Furnace has since been polished by Cooper, who showed his capability to craft compelling characters with Crazy Heart. Here, Bale will star as Russell Baze, a tough customer who tries to forge a path for himself and his younger brother Rodney (Affleck) in the poverty-stricken Rust Belt. The two aspire for better lives, but when a cruel twist of fate lands Baze behind bars, his little brother falls in with a dangerous crowd and suffers a terrible fate. Four years later, when Baze is finally released from prison, he must choose between a fresh start or a more treacherous path, seeking justice for his wronged brother. Saldana will play Bale's love interest, Lena Warren, while Shepard is slated to portray the brothers' uncle, Red.
As an Oscar-winner who is poised to break box office records once more with The Dark Knight Rises, Bale has his pick of projects so his inclusion here bodes well for Out of the Furnace on many levels. Add to that Affleck and Shepard, who are both Oscar nominees—for The Assassination of Jesse James by the Coward Robert Ford and The Right Stuff, respectively—and you've got a solid trio of acclaimed actors at the film's core. As for Saldana, it'll be intriguing to the stunning actress in something outside the genre features in which she's best known.
Relativity's Co-President, Tucker Tooley, is certainly enthusiastic about the cast, declaring:
Beyond star power, Out of the Furnace also has some incredible producers on board. Leonardo DiCaprio, who was once rumored to being grooming the picture as a vehicle for himself, is producing along with Jennifer Killoran (The Ides of March), Ridley Scott (The Grey), Tony Scott (Man on Fire), Michael Costigan (American Gangster) and Ryan Kavanaugh (The Fighter). With a line-up like this you can bet Relativity's hoping Out of the Furnace will draw major box office and some serious acclaim.
Curiously, there's no word on the film's genre outside of "drama," yet Out of the Furnace's story, themes, director and some of its cast indicate that this feature will be a Western. That's not to say there will necessarily be horses and cowboy hats, but Relativity has pulled together a team that could craft the kind of neo-western for which the Coen Bros. have twice gotten Oscar acclaim (No Country for Old Men and True Grit). Perhaps the producers are avoiding the label of "Western" at present so as not to pigeonhole the production too soon, but personally this sounds like a premise worthy of a Western incarnation with a cast that's perfectly suited to the task.
Production on Out of the Furnace will begin later this month in Braddock, Pennsylvania.
Your Daily Blend of Entertainment News
Staff writer at CinemaBlend.