Connie Britton Swears The Friday Night Lights Movie Is Happening For Realsies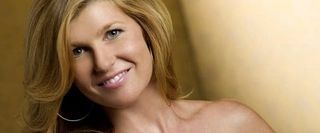 Of course there's always been one Friday Night Lights movie, the 2004 one starring Billy Bob Thornton, but the only one anybody wants to talk about these days is a potential film based on the recently cancelled NBC series, which also took home two Emmys last month. Right after he won the statue for Best Writing for a Drama, executive producer Jason Katims confirmed that the team still wants to make the movie happen, and that the Emmy win confirmed to him that "people are still passionate about the show."
Connie Britton, who didn't get an Emmy last month but probably should have, is also enthusiastic about the prospects for a movie, and in no uncertain terms promised to Us Weekly that it was going to happen. In fact, she said "It's happening for realsies," which makes me adore her all the more. Here's the rest of what she had to say:
Of course, Friday Night Lights is just one of many, many beloved TV shows with showrunners and stars who promised over and over again that a movie would happen even when no visible progress was being made-- Arrested Development is another recent high profile example. Enthusiasm about Friday Night Lights wasn't enough to make it a big hit on NBC or keep it alive longer, so it's unclear how enthusiasm might make the movie happen. But if you've got your finger crossed for the Friday NIght Lights movie, know that you're in good company with Connie Britton.
Staff Writer at CinemaBlend
Your Daily Blend of Entertainment News
Thank you for signing up to CinemaBlend. You will receive a verification email shortly.
There was a problem. Please refresh the page and try again.