Couple Whose Wedding Was Crashed In Bad Grandpa Are Getting Divorced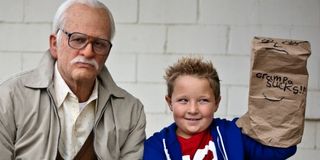 It's bad luck to see the bride in her wedding gown before the ceremony. It's bad luck to give a knife as a gift. And, apparently, it's bad luck to have Johnny Knoxville crash your wedding. The pranksman famously pulled one over on Jarrod Brom and Kimberly Peeler in the Jackass movie Bad Grandpa, wreaking havoc on the wedding cake and table setup. Now the couple has filed for divorce.
TMZ reports that Brom and Peeler are separating, two years after they were featured in Bad Grandpa. The film featured Knoxville suited up in prosthetics as Irving Zisman, a dirty old timer palling around with his on-screen grandson, played by fellow pranksman Jackson Nicoll. Together they embarked on a journey across America, stealing from a convenience store, knocking over promotional displays and road signs, and scaring the crap out of bystanders along the way. One particular scene entailed crashing Brom and Peller's wedding by toppling over the champagne and falling completely into the wedding cake.
Peeler detailed the event to The Huffington Post, telling how the whole thing came about. Brom was actually a producer on Bad Grandpa and Peeler, not your typical bride to be, thought it would be hilarious if Knoxville came in to crash their wedding at Wattles Mansion in Hollywood. Unfortunately at the time, they had a pretty set script and the crew was determined to move ahead with it. Seven months in, however, most of the scenes were shot and the writers were working on something extra to feature. Hearing of this, with now 10 days before the ceremony, Peeler asked her then-fiance to pitch the idea of their wedding to the team, and she ended up getting her way after all. Both Peeler and Brom both knew the prank was officially on and they planned it with Paramount Pictures to take place during the post-ceremony cocktail hour, to pull one over on a smaller group of guests. Though, one of Peeler's ideas was to have Knoxville object to the wedding and shout that he was sleeping with the groom.
You can watch a snippet of the scene in the clip below.
Unfortunately, this won't be a story Peeler and Brom can tell their grandkids about. According to TMZ, the two seemingly have a clean split on their hands, as they don't have any kids together and there are no communal assets to speak of.
Your Daily Blend of Entertainment News