New DVD Releases: October 2015 In Home Entertainment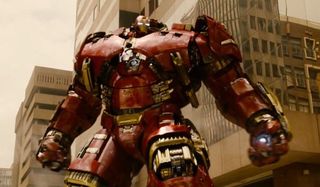 Did the holidays just come early? By the looks of this month's Blu-ray, DVD and Digital releases, the studios are already gearing up for the big buying months, releasing a slew of big titles. From the big The Avengers: Age of Ultron and Magic Mike XXL releases to a slew of TV favorites and a bunch of other popular flicks that don't involve superheroes or male strippers, we've got the list of what's coming out this October. You can check it out, below. In addition, if you are looking for any releases that may have come out last month, head here.
October 2
The Avengers: Age Of Ultron
Avengers: Age Of Ultron isn't as simple and straight ahead awesome as its predecessor. It's a bigger, more complicated movie with more characters, more emotions and more grey areas. Perhaps because of that, it didn't go over quite as well with the general public, but upon a rewatch, Joss Whedon's latest is actually a very compelling and worthwhile entry into the Marvel catalog. Maybe it does feel a little overstuffed at times, but it also carefully paves the way for the studio's future, while still telling a compelling, standalone story. That's really hard to do, and the action scenes are among the best ever put to the big screen. It's non-stop visual wonderment, and fortunately, the disc looks every bit as good as the actual movie. It contains the deleted and extended scenes Marvel fans have come to expect but in addition, it also drops a gag reel, some featurettes and most importantly, a really, really helpful guide to the Infinity Stones. They can be a bit complicated to explain to those who haven't read the comics, and the explanation here is yet another example of Marvel carefully planning out everything. Well played all around. You can order a copy here (opens in new tab), or with Disney Movies Anywhere.
October 6
Magic Mike XXL Blu-ray
Magic Mike XXL, like its predecessor, is a testament to what a moderate budget and a fun premise can do for the movie going experience. From an opening sequence featuring Mike (Channing Tatum) dancing with some construction equipment to a wild wedding idea from Richie (Joe Mangienello), the team is back (also featuring Matt Bomer, Kevin Nash, Adam Rodriguez and Donald Glover) for another rollicking ride through the world of male stripping. This time around, director Gregory Jacobs keeps things light for the fans, making for a fun road trip story with a tinge of sex (mostly thanks to Jada Pinkett Smith) and a tinge of romance (mostly thanks to Amber Heard). All in all, Magic Mike XXL proves that, really, we don't need fun special effects provided we have Channing Tatum's abs to stare at. I'm not complaining. Viewers who enjoyed Magic Mike XXL should also enjoy Warner Bros. Home Entertainment's set. There's an extended segment featuring Malik's dance scene (So You Think You Can Dance competitor Stephen "tWitch" Boss). There's also an extra looking at the choreography. Again, I'm not complaining. You can order Magic Mike XXL over at Amazon (opens in new tab).
American Horror Story: Freak Show Blu-ray
Having already gone through housebound ghosts, rubber-suited men, evil nuns, aliens, witches and Stevie Nicks, it only made sense for American Horror Story: Freak Show to ground its horror in things that weren't always paranormal in nature. But that doesn't mean that things were normal. (Especially when it came to Wes Bentley's character, who had a face on the back of his head that told him to do bad things.) But almost everyone this season is an actual human being with handicaps both mental and physical. Leading the Freak Show is Jessica Lange's German ex-pat, and her squad included Sarah Paulson's two-headed lady, Evan Peters' claw-handed showman, Michael Chiklis' strongman, Angela Bassett's tri-boobed entertainer, Kathy Bates' bearded woman and more. All in all, the season is an uneven one, with the central antagonist shifting from the nightmarish Twisty the Clown to Finn Wittrock's foppish Dandy Mott, but there were still more than enough narrative oddities and grossout moments to sate fans and casual viewers. Special props go to Denis O'Hare for his snide conman and Mat Fraser as the short-armed Paul the Illustrated Seal . In terms of the Freak Show Blu-ray, Twentieth Century Fox Home Entertainment has put together a nice little set. All 13 episodes are tidily compacted onto 3 discs, and a ton of extras are offered. However, it should be noted that some of this is footage we've seen before (including segments from the real-life cast) and some of them are newer, including footage from the show premiere. You can order American Horror Story: Freak Show – The Complete Fourth Season over at Amazon (opens in new tab).
Other October 6 Blu-ray And DVD Releases
Insidious: Chapter 3
Me, Earl and the Dying Girl
Batkid Begins
When Marnie was There
Sharknado 3: Oh Hell No!
Penny Dreadful: The Complete Second Season
The Leftovers: The Complete First Season
Vikings: The Complete Third Season
The Timber
Air
What We Did On Our Holiday DVD
Limited Edition Supreme Series Dracula Blu-ray
Little House on the Prairie: The Complete Season 7 DVD
Happyish DVD
Best Christmas Party Ever DVD
Bossip Comedy Series Part 2 DVD
Duck Dynasty: Season 8 DVD
Golden Shoes DVD
Last Shift
Early October Digital Releases
Pixels
Jurassic World (October 1)
Max
Paper Towns (October 9)
The Exorcism of Molly Hartley (October 9)
October 13
San Andreas Blu-ray
The first ten minutes set the tone for San Andreas, an amped up disaster movie about a man, his family, and what to do when disaster strikes. When the movie begins, we meet Ray Gaines (Dwayne Johnson), a worker for the Los Angeles Fire Department who happens to make a daring helicopter rescue early on. Soon, as high magnitude earthquakes begin popping up along the San Andreas fault line, Ray must make a bold move to save his ex-wife Emma (Carla Gugino) and his daughter Blake (Alexandra Daddario) from certain disaster. Along the way, romance strikes up, too. So, the plot is a little thin. But the special effects in Brad Peyton's film are good for this sort of flick, which despite its predictable premise is very likable from beginning to end. Most of this is due to Johnson's larger-than-life personality, but frequent nice guy Ioan Gruffudd takes a nice turn as a bad guy in the movie, and the chemistry between Daddario and Hugo Johnstone-Burt is believable, too. We took a look at the Blu-ray with UltraViolet, but Warner Bros. Home Entertainment's set can be purchased in 3D, as well. Either set comes with plenty of extras, some more interesting than others. There are deleted scenes with commentary and segments like "Scoring the Quake." We can guess which of those will be most appealing to fans. If you'd like a copy, you can order San Andreas, here (opens in new tab).
Tomorrowland Blu-ray
Brad Bird's Tomorrowland is filled with numerous visual wonders, including lifelike robots and diving pools unhindered by gravity. Unfortunately, the winding tale takes a while to get to the point, introducing us to a young boy named Frank Walker (Thomas Robinson) and a tech-savvy teenager named Casey (Britt Robertson) before really delving into the world of the future and the problems that humanity is set to face. But first Casey must meet a robot named Athena (Raffey Cassidy) and a now-adult Frank (George Clooney) before the audience even begins to uncover what is at stake. In some moments there is a lot of whimsy in Tomorrowland. In all moments there are a lot of fun, interesting ideas that are bandied about by an impressive cast that also features Hugh Laura, Kathryn Hahn and Keegan-Michael Key. But as unique and often interesting as Tomorrowland is, it doesn't come together as a cohesive, entertaining whole. If you did like the movie, Walt Disney Home Entertainment's set is still pretty nice, with a menu setup that is easy to navigate and extremely functional. The extras are a little kooky, with a throwback science segment hosted by Laurie's character, David Nix called "The World of Tomorrow Science Hour." Brad Bird fans can also check out the director's production diary (less interesting) and a more intimate segment called "Remembering the Future" that explains how Bird conceived the possibility of Tomorrowland with the rest of the creative team. You can order Tomorrowland over at Amazon (opens in new tab).
Other October 13 Blu-ray And DVD Releases
Aladdin: Diamond Edition
Wayward Pines
Mad Men: The Final Season - Part 2
Mad Men: The Complete Collection
Ascension
Bates Motel: Season 3
GloriaDVD
Girlfriends' Guide To Divorce- Season One DVD
Billy Elliot: The Musical Live
The Following: The Complete Third Season
The Gallows
Week of October 13 Early Digital Releases
Inside Out
Vacation
Mississippi Grind
Edward Scissorhands 25th Anniversary
October 20
Jurassic World Blu-ray
There's a lot of things to love about Jurassic World, a movie that takes the general concept of its predecessor and makes it bigger and bolder. More than two decades after a millionaire sought to create a theme park featuring live dinosaurs, a team led by a woman named Claire (Bryce Dallas Howard) made it happen. However, those pesky humans were also busy messing with genetics again, and created a dinosaur named Indominous Rex that escaped his pen, only to wreak havoc on the park. It is up to velociraptor trainer Owen Grady (Chris Pratt) to save the day and get Claire's young nephews, Gray and Zach (Ty Simpkins and Nick Robinson), out of danger. It's difficult to make a great sequel to a beloved movie, but Colin Trevorrow's latest endeavor did exactly what Universal hoped the movie would do: create a fun, incredible-looking big budget movie that could resonate with old and new audiences alike. Of course, the Blu-ray release is nicely put together, with a 3D optionand a DVD and Ultraviolet copy included with the movie. The popularity of Jurassic World likely encouraged Universal Studios Home Entertainment to stack an excessive amount of previews at the start of the disc, but they can be skipped to get to the goodies. The Blu-ray features a healthy amount of deleted scenes, including lots of scenes with the boys, Owen and Claire wandering through jungle landscapes (plus this really gross one). Plus there are great behind-the-scenes extras that explain how animatronics were used and more (Trevorrow and Spielberg show up in these). If you have the extra cash, Jurassic World is certainly one to add to the collection. Order any of the different versions of the Blu-ray, here (opens in new tab).
Other October 20 Blu-ray And DVD Releases
Paper Towns
Z For Zachariah
I Spit on Your Grave 3: Vengeance is Mind
Testament of Youth
Nurse Jackie: Season 7
Week of October 20 Early Digital Releases
Terminator Genisys
The Hobbit: Battle of the Five Armies Extended Edition
Trainwreck
October 27
Pixels Blu-ray
Featuring a stacked cast, including Adam Sandler, Kevin James, Josh Gad, Peter Dinklage and Michelle Monaghan as the love interest, and a throwback premise filled with references to the arcade games of the past, Pixels seemingly has a lot going for it. Once you've watched, you'll find a somewhat toned-down Adam Sandler movie that's often a little silly but just as often a whole lot of fun. Where Pixels suffers most is that it doesn't know exactly what it's audience should be. It's too goofy for the hordes of fans who played the arcade games the movie is nodding to from the eighties and it's a little too grown-up to be a super kid-friendly romp. Instead, Pixels lands somewhere in the middle. If you like Sandler, give this one a watch. If you don't, it's fine to skip. Sony Pictures Home Entertainment's set doesn't come with a lot of bells and whistles although there are some odd extras, including a Waka Flocka Flame video. In addition, no free digital copy is included with the regular Blu-ray, although 3D, Blu-ray and DVD copies are all available at various price points. You can order Pixels over at Amazon (opens in new tab).
October 27 Blu-ray And DVD Releases
Southpaw
The Gift
Max
Your Daily Blend of Entertainment News
Reality TV fan with a pinch of Disney fairy dust thrown in. Theme park junkie. If you've created a rom-com I've probably watched it.