Dakota Fanning Playing Princess Margaret In Girls' Night Out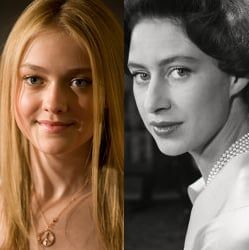 Princesses Margaret and Elizabeth were icons for a certain generation of girls growing up before and after World War II, the two daughters of King George VI living the kind of palace life everyone envied. And though it's been a while since anyone referred to the two princesses as a unit-- Elizabeth went on to be Queen, of course, while Margaret died in 2002-- they're making something of a comeback these days. The two daughters play small but significant roles in The King's Speech, which focuses on their father, and now there's a new film in the works about what happened to them when they were freed from the confines of Buckingham Palace for one night as teenagers, on VE Day at the end of World War II.
According to Variety Dakota Fanning has been set to star as Margaret, who was nearly 15 at the end of the war; casting for Elizabeth, who was 19 at the time, will begin shortly. The film will be directed by Michael Hoffman, who last made The Last Station and will be working with King's Speech star Colin Firth and Cameron Diaz on Gambit, the remake of the 1960s caper film that was scripted, oddly enough, by the Coen Brothers.
Sales for both films will take place at the European Film Market next week, so Hoffman is going to be a busy guy. With Fanning on board, and what seems like a renewed international interest in the royal family, the Princess Margaret film-- titled, kind of goofily, Girls' Night Out-- should be a fairly easy sell. I mean, is there anything Dakota Fanning can't make more appealing with her mere presence?
Staff Writer at CinemaBlend
Your Daily Blend of Entertainment News
Thank you for signing up to CinemaBlend. You will receive a verification email shortly.
There was a problem. Please refresh the page and try again.