This Death Star Fire Pit Built By A Handy Man Is Brilliant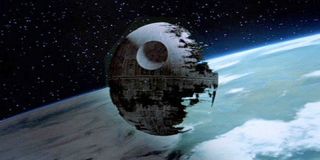 I'm going to put it out there: Jennifer Allison's grandpa is cooler than your grandpa. That's not meant to be a dig at your grandpa. It's just that Jennifer Allison's elder, who is actually named, Kenneth Triplett, built a Death Star fire pit that is so ludicrously good I feel like digging up my deceased grandfather and asking him why he didn't do the same for for me. Too far? Probably. But check out the image below to see if you want to borrow my shovel.
OK, maybe it's not grave-digging awesome, but there is still no doubting the fact that Kenneth Triplett's Death Star fire pit puts every other fire pit in the history of fire pits to shame. The image was originally uploaded to Reddit and IMGUR thanks to Jennifer Allison's account, Bandia5309. As its popularity continued to grow and grow Jennifer Allison simply basked in the cyber glory that her awesome grandpa had generated.
Kenneth Triplett clearly based his Death Star fire pit on the second Death Star battle station to have been built by the Galactic Empire, which first appeared in Star Wars: Episode VI Return of the Jedi. And boy did he do a sterling job. Not only did he perfectly craft the Death Star's super-laser focus lens, but he also tirelessly prised over his creations to etch in various other key elements from the intergalactic station too. You can check out an image of what the second Death Star looked like in the fifth instalment to the hugely popular franchise below.
But there's even more. Because I have some sublime news for those of you who were so bowled over by Kenneth Triplett's work that you immediately pined for one of your own. According to CNET the 84-year-old New Mexico native is going to start custom making and selling these Death Star (opens in new tab) fire pits. Visit his Etsy (opens in new tab) page entitled, KGFirePits to put in an order of your own or check out more photos.
Triplett has Jennifer Allison to thank for his business idea. She soon set up the page after noticing just how supremely popular the Reddit thread had become. Those of you who want one will have to shell out $1,600 plus between $300-$600 for shipping to US destinations only though. Yes, it's a little bit expensive but surely this is a no-brainer for those of you who are in desperate need of a fire pit. Because, simply put, any other fire pit that you buy instead will be turgid in comparison.
Your Daily Blend of Entertainment News
Thank you for signing up to CinemaBlend. You will receive a verification email shortly.
There was a problem. Please refresh the page and try again.