Dominic Cooper Talks Sharing The Role Of Howard Stark With John Slattery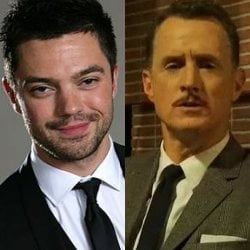 When I interviewed Dominic Cooper back in September, he had flown to Toronto for a quick break from the First Avenger: Captain America shoot, which he joked would be going on "for another 80 years." The star of Mamma Mia! and the forthcoming Tamara Drewe is no stranger to large blockbusters, but when I brought up the question of the superhero film at the end of our interview, he seemed a little surprised at how many questions he's fielded about his role in the film. He's been cast as Howard Stark, father to Iron Man Tony Stark, and since Captain America is set in the 40s Cooper will be playing the character as a young man, years before we meet the man we saw in Iron Man 2, played by Mad Men's John Slattery.
I asked Cooper about Slattery's take on the character and how he planned to echo it, especially since the two actors don't look all that much alike. :
I also asked him about the notoriously massive contracts Marvel has its actors sign, such as the nine-picture deal that Samuel L. Jackson agreed to before playing Nick Fury. Cooper seemed a little relieved that his commitment was less extreme:
So yeah, there's not much he had to tell me that we didn't already know, but it was at least interesting to sit down with Cooper, who in Toronto seemed a million miles away from all the Marvel madness but very aware that the scrutiny of comic book geeks will be like nothing he's ever experienced. Check back later for the ret of my interview with Cooper, in which we talk about Tamara Drewe, its messages about celebrity and what it's like to be one of the few male actors regularly treated as a sex symbol in films. Yes, seriously.
Your Daily Blend of Entertainment News
Staff Writer at CinemaBlend