Everything You Need To Remember Before You See X-Men: Apocalypse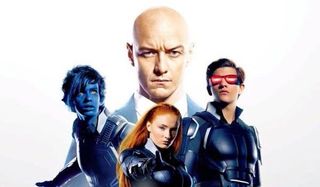 It's only been two years since of X-Men: Days of Future Past was released, but in the X-Men movie universe, 10 years have passed between that and X-Men: Apocalypse, which finally arrives in U.S. theaters this Friday. History has played a key role in the "First Class" trilogy, and with each passing decade, moviegoers see how this world filled with mutants has changed. Thanks to timeline changes in the last movie, events haven't progressed the same way as they did in the original history of this universe.
In order to keep up with where our main characters are at the start of X-Men: Apocalypse, we're going over the key moments you need to remember from X-Men: First Class and X-Men: Days of Future Past, from the status quo of mutants among the public t characters who haven't been seen in a while. However, the movie also acts as a culmination to all the previous main X-Men movies, so there will be some subtle callbacks to the original trilogy.
Mutants Revealed To The Public
It was never revealed in the original X-Men movies when the public became aware of mutants, but by 2000 (or whenever X-Men takes place), the world knew about their existence, to the point the U.S. government was trying to pass legislation to regulate them. Thanks to Wolverine's time traveling in X-Men: Days of Future Past, mutant exposure happened earlier than it did in the original timeline. When Wolverine, Charles Xavier and Beast went to prevent Mystique from killing Bolivar Trask, Magneto took it a step further and tried to kill Raven so her DNA couldn't be used to later upgrade the Sentinels. When she tried to escape, Magneto followed her outside to do the deed, which was foiled thanks to Beast's intervention. The folks outside the Paris Peace Accords saw a shapeshifter, a metal manipulator and a blue-furred creature fighting, and the world was never the same. X-Men: First Class showed many government and military officials learning about mutants, but now their existence to the masses was no longer a secret.
Mystique Stopping Magneto
Being locked in a prison for years didn't deter Magneto from continuing his mission for mutant superiority when he was finally freed. After the incident in Paris and retrieving his helmet, he laced Bolivar Trask's Sentinels with steel from a train track so he could control them. To make sure no one would escape his wrath, he dropped the Robert F. Kennedy Memorial Stadium over the White House as a barricade. Fortunately, Mystique, already disguised as President Richard Nixon, was able to neutralize him before he could accomplish his goal. Thanks to her actions, the world saw a mutant prevent an assassination, and the Sentinel program was also shut down. This didn't erase all discrimination towards mutants, as Mystique has been spending the past decade rescuing her kind from terrible situations. Still, it's likely that views on them are overall more positive than they were in the original timeline. As for Magneto, he's been in hiding for the past 10 years leading a quiet life with his own family, but when tragedy strikes, he'll be easily recruited by Apocalypse to become one of the Four Horsemen and assist in tearing down everything society has built.
Moira McTaggert's Last Appearance
Excluding her cameo in X-Men: The Last Stand, Moira MacTaggert's only major role in the X-Men franchise was in X-Men: First Class. During her investigation into the Hellfire Club, Moria learned about mutants, which eventually led to her seeking help from Charles Xavier. She proved herself as a reliable ally during the movie, and it looked like there was a spark of romance between her and Charles. However, before the story concluded, Charles wiped away most of Moira's memories of her time with him and the other mutants so she wouldn't accidentally reveal to her CIA superiors where his new school was located. Moria and Charles will cross paths again in X-Men: Apocalypse, but he'll be a complete stranger to her, and she'll only ask for his assistance due to his prominence in the world of genetic studies. Obviously Charles isn't going to reveal their past connection, but one wonders if some kind of event or trauma will reawaken those lost memories.
Quicksilver's Debut
His costume may have been criticized in early promotional material, but Peter Maximoff, a.k.a. Quicksilver, ended up being one of X-Men: Days of Future Past's highlights. Because Wolverine knew the older Peter in the original timeline, he, Charles Xavier and Beast were able to track down his younger self and convince him into helping them break Magneto out of his prison underneath the Pentagon. The slow-motion sequence of Quicksilver running around the kitchen while "Time in a Bottle" played remains the movie's most memorable sequence, but afterwards, he was cut from the group so he wouldn't be put in more danger. 10 years later in X-Men: Apocalypse, nothing has really changed in Quicksilver's personal life aside from learning that Magneto really is his father. Nevertheless, we're eager to see how he assists in saving the world, and and his next super speedy sequence will undoubtedly be more fun to watch.
Xavier's School Getting A Failed Start
At the end of X-Men: First Class, Charles Xavier intended to establish a school in his family's mansion where mutants could learn about their powers and not worry about being persecuted. Unfortunately, because of the Vietnam War, many of the students and staff were drafted into the military in the late 1960s, forcing Xavier's School for Gifted Youngsters to shut down. This sent Charles into a downward spiral, but thanks to future Wolverine's presence, he picked himself back up in 1973, embraced his telepathy again and re-dedicated himself to helping his fellow mutants. X-Men: Apocalypse will mark the first time that the school is seen open in the "First Class" timeline, and while we get to meet all of his students in 1983, it's thanks to the school that Cyclops, Jean Grey and Nightcrawler will meet one another and eventually help protect the world from Apocalypse and the Four Horsemen.
Past Wolverine's Fate
Older Wolverine's mind made it back to the present day by the end of X-Men: Days of Future Past, but his 1970s self was in a rough spot when we left him. During his attack on the White House, Magneto tossed Wolverine into the Potomac. Fortunately after the battle was done, he was rescued by William Stryker, who was actually Mystique in disguise. We never learned if she had anything planned for him, but the real Stryker is returning in X-Men: Apocalypse. Not only that, but it's been confirmed that we'll see Wolverine back at Weapon X in the sixth main X-Men installment, metal claws and all. We don't expect the movie to cover everything that happened to Wolverine over the last 10 years, but ideally we'll learn whether he's been Stryker's prisoner this entire time or if they crossed paths during the interim and Stryker convinced Logan to join the program, similar to what went down in X-Men Origins: Wolverine.
The Original Incarnations Of The Young X-Men And Four Horsemen
Just like how X-Men: First Class introduced younger versions of the older X-Men characters in the 1960s, X-Men: Apocalypse is notable for showing us Charles' students in good ol' 1983, years before they had a handle on their powers. Arguably the most important of the bunch are Cyclops and Jean Grey, who died in X-Men: The Last Stand, but thanks to Wolverine's interference, we know their future selves are still alive in this new timeline. Still, it will be interesting to see how they were back when they were new at Xavier's school and not the seasoned superheroes we remember. Then we have Nightcrawler, who was played by Alan Cumming in X2: X-Men United. Thanks to the changes in the timeline, he'll join the X-Men much earlier and will get to live among others like him.
Meanwhile with the Four Horsemen, we have Storm and Angel. Storm's older self was seen in X-Men: Days of Future Past as one of the last mutants to fight the Sentinels, and just like with Cyclops and Jean Grey, her older self is still alive in the new timeline. The teenage Storm will first be seduced by Apocalypse, but thankfully, it looks like she'll still join the X-Men by the end, just like fate intended. As for Angel, his only previous movie appearance was in X-Men: The Last Stand, and he didn't get much to do in that movie. While it's still baffling how Warren was somehow born earlier in this new timeline, at least he'll be seen as Archangel, so we're willing to let that inconsistency slide.
Connoisseur of Marvel, DC, Star Wars, John Wick, MonsterVerse and Doctor Who lore. He's aware he looks like Harry Potter and Clark Kent.