Ewan McGregor Was Close To Playing Doctor Strange, Get The Details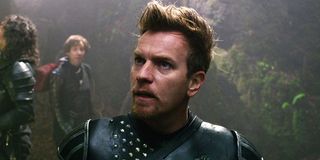 In an interesting discussion of something that could have been, Obi-Wan Kenobi was almost cast as Doctor Strange. Yes, Ewan McGregor, the actor who played the great Jedi warrior in the Star Wars prequels was actually at one point quite close to playing Marvel's Sorcerer Supreme. And he has now looked back on his brief opportunity to nab the role.
McGregor recently participated in an interview with MTV outdoors in a chilly, Hoth-like Utah during the Sundance Film Festival, when the topic shifted to the the brief rumor that the actor was once in the mix for the lead role in Marvel Studios' upcoming Doctor Strange. According to McGregor, the idea of donning the mantle of Marvel resident mystic was, indeed, something he was interested in pursuing. There was just one problem: his knowledge of comics could realistically be qualified with two fatal words, "jack" and "squat." As he explained,
Taking the role of Doctor Strange certainly would have been a tremendous move for McGregor's career, which has been ever evolving since he broke out playing a junkie looking to turn over a new leaf in 1996's Trainspotting on to the big budget explosion that would ensue after he took the role of a young Obi-Wan Kenobi in Star Wars Episode I: The Phantom Menace. There has been no shortage of roles for the Scotsman ever since, including, unfortunately, recent box-office bomb, Mortdecai. McGregor as Strange would have been interesting. He's still the right age and does carry an innate charisma with his on-screen presence. However, Strange will also need to carry a level of smug pretentiousness (at least in the beginning of his arc), and I wonder if that's the angle for the character that McGregor was unprepared for.
Of course, fate would have different plans for the big screen debut of one Stephen Strange, who was even name-dropped in last year's Captain America: The Winter Soldier just to whet the rabid appetites of fans. The man who could be described as the internet's favorite actor, Benedict Cumberbatch, would eventually be cast to wear the character's signature red, popped-collar cape. The star of Star Trek Into Darkness (a forgivable mulligan), the BBC's spectacular TV series, Sherlock and current box-office resident, The Imitation Game will be coming into the film with a lot of upward momentum. It seems to be a win-win scenario, despite the casting choice not being all that creative.
Marvel's Doctor Strange is currently set to transcend corporeality, making its way through a mystical, psychedelic journey that is production to the center of the box-office on November 4, 2016.
Your Daily Blend of Entertainment News