Fantastic Four Clip Finally Shows The Awesome Power Of Doctor Doom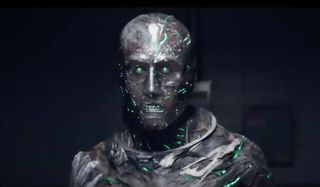 Whether or not Josh Trank's Fantastic Four spells doom for the franchise, Doom's-day is coming. Toby Kebbell of Dawn of the Planet of the Apes portrays Victor von Doom, aka Doctor Doom, in this new story of Marvel's first family. While he's largely remained in the shadows for a good portion of the promotional campaign, a new clip from the film has dropped online to showcase some of his deadly abilities. Watch it below.
This is a whole new Doom. The previous film iteration of the character, played by Nip/Tuck's Julian McMahon, saw the character wield electrical-based powers. However, this new clip, revealed by Comic Book Resources, shows there are a lot more tricks up this guy's sleeve. His abilities are not spelled out for us, but the footage reveals he has some sort of mental or super-sonic attack that can pop his victim's brains open like tomatoes. Secondly, he has some sort of force powers, similar in visual style to what we've seen from Kate Mara's Invisible Woman — Sue Storm's force fields are blue-tinged, while the bullet-deflecting shield around Doom is green.
Then there's his physical appearance. We know that Victor joins Reed (Miles Teller), Johnny (Michael B. Jordan), Ben (Jamie Bell) and Sue on the inter-dimensional trip that grants them their abilities. Based on the previous trailers, we know they encounter some sort of green substance into which — it appears — Victor falls. When they all return to Earth, he ends up looking like this, a physically scarred and charred man. Of course, he'll eventually don his signature hood and cape combo when he plans on destroying the world.
"He's stronger than any of us," we've heard exclaimed in the trailers, which tease some of his other abilities. We see him shatter a boulder with his mind and sends Reed flying backwards with an energy blast. His dastardly plans, which are still a bit of a mystery, involve some sort of inter-dimensional vortex with the potential of sucking up large chunks of Earth. "Doom is the ultimate bad guy," Kebbell told Cinema Blend in an interview. Though the film won't get into his backstory in Latveria, the actor told us Doom's cursed mother and deceased father are engrained in his character.
We'll see Doom fully formed when Fantastic Four debuts in theaters this Friday, August 7. Kebbell and the four leads are joined by Reg E. Cathey (Dr. Franklin Storm), Tim Blake Nelson and (pre-Mole Man, Dr. Allen). Fantastic Four 2 is already slated for release on June 9, 2017, though it's unclear where Fox might take this property. Rumor has it that X-Men director Bryan Singer might go over to helm the FF sequel in the hopes of crossing over both of these properties. Singer recently confirmed discussions on the matter, and now we're waiting to see how it all turns out.
Your Daily Blend of Entertainment News